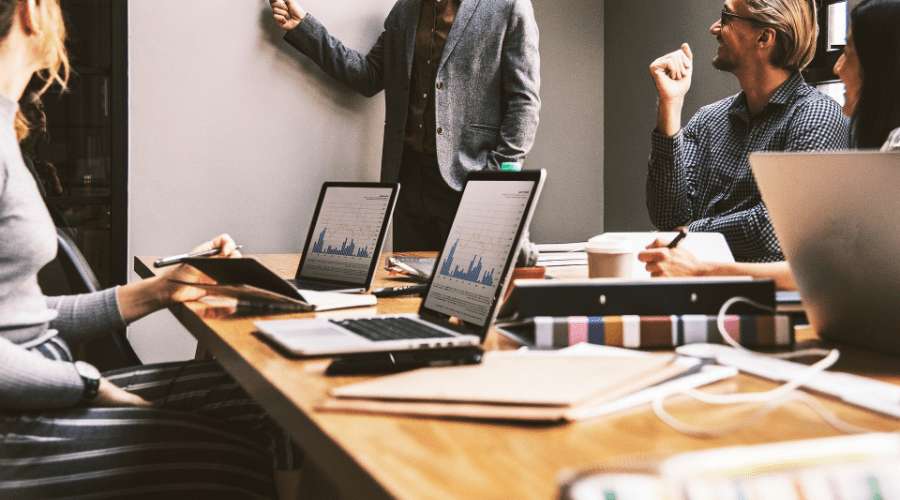 Top 9 SaaS Trends: Every Company Should Follow in 2023
The SaaS market has been exploding since it was introduced two decades ago. SaaS products are irreplaceable for numerous companies as they are reliable and cost-friendly. It provides the true value of users' spent money; therefore, its adoption rate is skyrocketing.
The traditional on-premises software is no more a trend now. SaaS is becoming more and more prominent. According to a report by Bettercloud, SaaS applications hold a 70% stake in total company software use. The average number of applications used by companies was 8 in 2015, which reached a whopping amount of 80 in 2021. It is 10x growth in just 7 years.
What Makes Saas So Special?
We acknowledged the fast-paced adoption of SaaS. But the question is why it is getting so much popularity and what makes it special. Let's discuss it.
The first and most essential advantage of SaaS is that it doesn't require custom installation or hardware. Applications are delivered over the internet, and installations are done rapidly. Additionally, there is not any space for maintenance costs as the system gets updated automatically. It cuts various expenses of the organization; therefore, it is worth investing in.
The traditional software was deployed manually and took much time in the installation stage, and it sometimes contained glitches. SaaS solved those aspects as the applications are ready-to-use and already configured.
The scalability of SaaS is unmatchable as it allows integrations so that the users can run multiple activities from a single system, and they don't have to pay any additional costs. In addition, the applications are hosted on the cloud and backed up by the vendor, so there is less risk of security breaches.
And the most important thing that makes SaaS unique from the traditional concept is the customization options it offers. All users work on a common infrastructure, yet they can tailor applications according to their business process needs. It lets the SaaS providers upgrade the system frequently, with less customer churn risk and lower adoption costs.
Nowadays, the multitenancy model is overgrowing among SaaS businesses that let multiple users use a particular application as a tenant. Some customization options may be given to customers, and the database of every customer is divided from each other. This type of structure serves enterprises with less budget.
SaaS applications also provide the ability to execute an audit of business transactions so that users can get an analysis of past data and find the improvement areas. It helps them in forming strategies and developing them.
SaaS Trends To Follow In 2023
Artificial Intelligence Integration
Artificial intelligence is becoming more and more widespread in SaaS tools. A study by PWC stated that AI will contribute around $15.7 trillion to the global economy by 2030.
AI uniquely influences the SaaS market, improving product efficiency in different ways. It allows for analyzing the data better and finding patterns from it, which helps in decision-making. SaaS businesses can automate their business processes and their offered services/products also, it assists in providing users with personalized experiences. AI enhances the work speed and solves data security concerns. It detects malfunctions, data leaks, frauds, and other breaches; it also prevents cyberattacks.
When SaaS is combined with AI and machine learning, it derives the best results reducing the costs. It enables automating various repetitive tasks such as training, customer contact, marketing campaigns, and upselling. In addition, it will create an entirely new level of customer care. For example, Netflix and Spotify use AI and machine learning algorithms to recommend the content according to users' likes and provide personalization. e-Commerce sites are also leveraging the AI to offer product suggestions according to users' previous activities.
Emergence Of Vertical SaaS
SaaS applications for every sector and niche are horizontal SaaS which offers common functionalities. On the other hand, vertical SaaS is an industry and niche-focused application that includes advanced features for specific needs.
Vertical SaaS has a higher level of customer intelligence built-in than any other horizontal application. In addition, predefined metrics and KPIs provide a high level of business values and data governance. It fulfills a particular industry's unique needs and enables flexibility; therefore, the demand for vertical SaaS is skyrocketing. Additionally, industry-tailored solutions are proven comfortable for business processes and cost-effectively also.
Vertical SaaS enables a great workflow and increases efficiency. In addition, it targets a limited and specific audience; therefore, the marketing expenses of the company can be reduced as the conversion rate goes higher. Fintech, healthcare, and retail management sectors are the best fit for vertical SaaS. BioIQ, GuideWire, Innovacer, Veeva, and Silo are some of the ideal examples of vertical SaaS.
Low-Code Is The New Normal
Low-code is the next prominent trend emerging rapidly in the SaaS industry. To make SaaS development easy for everyone, some companies provide low-code or no-code applications that don't require specific programming knowledge or tech-savvy skills.
Low-code platforms won't eliminate the need for developers for a company, but they will save the developing team's time so that they can spend more time innovating the products. Development toolkits, drag-and-drop interfaces, and reusable components are included in this type of platform so that users can develop their applications or website. In addition, low-code apps will let startups to make high-speed MVPs to test more solutions rapidly. Research and Markets predicted that the global low-code market may reach a $187 billion valuation by 2030. It is because of the rapid adoption of low-code and no-code platforms. They save valuable time and ease the efforts, ultimately improving the company's profitability. Beamer, SAP, Flutterflow, Mendix, Kissflow, etc., are some of the prominent names in the low-code industry.
Increased Dominance Of Martech
Marketing technology is a pool of various apps that helps organizations improve their promotional campaigns and increase the efficiency of insights. In past years, its growth was slowed down as some vendors were providing complex features, outdated systems, inflexibility, etc. But, it has regained its growth in recent years as the SaaS providers have redefined the martech industry.
As the SaaS industry is expanding, numerous businesses have concentrated on improving the user experience. They tend to provide different industry-specific solutions and better accessibility. Therefore, the martech industry is proliferating in valuations. According to ContentGrip, martech is now worth $121.5 billion, and it continues to grow.
Data analytics, business intelligence platforms, and graphic designing solutions are new chapters of the martech sector. Aspire, Mangools, Ahrefs, and Canva are prominent leaders in the martech industry.
Also read :
SaaS Metrics - Defining The SaaS Company's Success
Mobile Apps Are Prioritized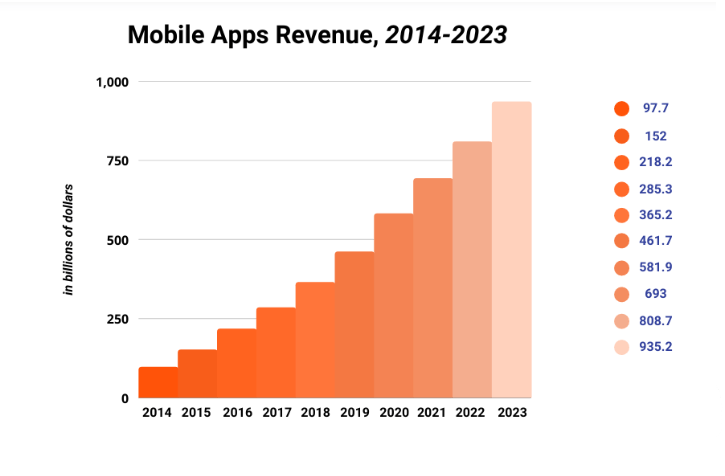 Image(Source)
As the image shows the growth of the mobile app market, more and more SaaS providers are implementing a mobile-first approach. The mobile app market is a growing space for successful business development; therefore, organizations are turning towards it.
SaaS vendors are releasing their mobile apps and constantly trying to include every functionality of the web version. Communication and task management platforms are widespread among businesses handling various processes.
The mobile app industry is skyrocketing due to constant jumps in the number of average users. According to CNBC, around two billion people access the internet only through their smartphones, and the number is going to reach approximately 3.7 billion by 2025. Youtube, Facebook, Evernote, and Airbnb are popular platforms that adopted the mobile-first approach for their users.
Improved Data Security 
Data is the most accurate thing in modern times, and securing it should be more precise. Therefore, it becomes mandatory for SaaS vendors to store the data in a secure place to avoid breaches.
Encryption, password, data backup, and numerous other ways are adopted by SaaS providers to secure the users' data. Also, the users are now becoming aware of data breaches, and they demand transparent and clear data policy to ensure that their valuable information is in safe hands. GDPR is the best example to understand this.
Various SaaS models are well-known for their enterprise-level security, as AI and machine learning improved threat identification and mitigation.
FortKnox, Helios, SmartFiles, and SiteContinuity are SaaS platforms with the best data security.
SaaS White Labeling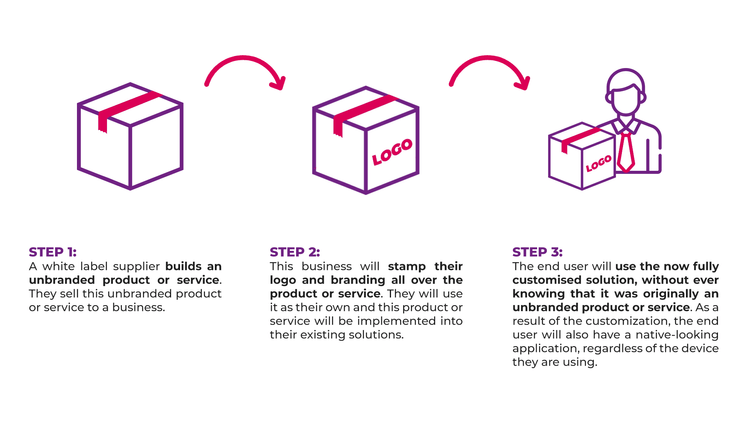 Image(Source)
White labeling is a process in which the application is created by one, and the buyer of that particular platform sells it under his label. This trend encourages businesses that can set a good market for their product, but they do not have technical skills and development resources. It can also be helpful for startups as it doesn't require a heavy amount to invest in.
If a platform framework is available, the business can focus on other valuable aspects such as branding, strategies, and
value proposition. Email marketing, BI dashboard, development tools, and integration software are usually white-labeled the most.
Additionally, e-Commerce sites, taxi services, food delivery, healthcare, grocery stores, and home services are white-labeled due to higher demands. AppInstitute, Mautic, GreenRope, 3dcart, Textbroker, and Zopto are prominent platforms allowing businesses to create and white-label different SaaS applications.
Companies Migrating To PaaS
Numerous companies have their own data centers to meet the needs of IT. However, it results in high expenditures and lesser profits. So, they tend to migrate their services to PaaS(platform as a service). Soon after relocating to the PaaS, the business gets an advanced infrastructure and different operational services such as databases, backups, recovery, storage, monitoring, VPN, and security.
PaaS helps the SaaS providers to launch add-ons for their products effectively and also comprise the cost-effectiveness. Therefore, it is a highly scalable and flexible solution that brings more personalized experience.
UK-based food delivery app Deliveroo uses AWS EC2 tools to scale the geographical market. The expansion plan of the startup succeeded, and the search interest rate increased by 26% in five years. Despite AWS, there are other PaaS platforms providing startups with an advanced infrastructure where they can manage different activities and build add-ons. Google app engine, Azure, Force.com, and Acquia are some ideal examples of these platforms.
More Importance To SaaS Analytics
Data holds much importance nowadays as many companies are entirely data-driven. SaaS providers emphasize data to streamline their processes and gain deep insights into customers. That's why analytics is the next big player in SaaS trends.
According to Businesswire, the SaaS-based business analytics market will grow by approximately $7.42 billion between 2020 and 2024, increasing at a CAGR of 13%. Analytics tools are the most rapidly growing SaaS applications allowing businesses to analyze users' behaviors. It helps in reducing churn rate, increasing customer engagement, and growing the recurring revenue.
SaaS analytic tools provide ease of strategies to the business as it alerts whether a user is dropping off due to a marketing message, product feature, bug, or support issue. It also enables suggestions for how to address that. So, the product manager or executives can identify patterns and build strategies accordingly.
SaaS analytics tools enable constant monitoring of growth KPIs and help the managers to fine-tune results. They even help organizations in tracking subscription updates and preparing reports to note total changes. This way, the company management can know where the business is and where it is going in the future. So, the strategies can be formed accordingly. Analytics shows the business's ranking in the market in real-time and assists the company in keeping pace with competitors; therefore, analytics is one of the most trusted SaaS trends future for SaaS businesses.
Concluding Thoughts
SaaS is not just limited to IT companies; it is becoming the leader in all business sectors. All industries and companies are implementing SaaS solutions regardless of their size. SaaS is proliferating because of its time-saving functionalities and practical features. In addition, everything is going digital, and the productivity of businesses is skyrocketing. With these drastic changes, the number of SaaS companies is also increasing. According to Statista, there were around 25,000 SaaS companies across the globe in 2021; and the number is rising rapidly. Thus, SaaS providers have to keep pace with the latest SaaS trends to stay competitive.