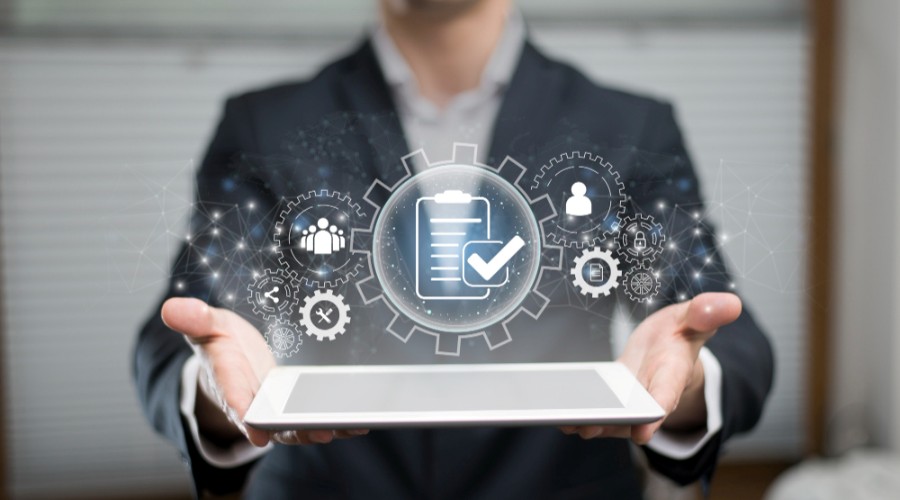 Cloud Based Project Management Software: Complete Guideline for 2023
Technologies that use virtual clouds are playing an increasingly significant role. Companies increasingly turn to cloud-based project management software to store data and implement daily work routines.
In this, solutions have been developed that make planning, implementation, collaboration, and controlling possible via the cloud. These are also called cloud-based project management systems.
What is cloud-based project management? In which areas can cloud technology be used? What are the main benefits? At this point, we will answer the most relevant questions and describe 10 advantages of cloud-enabled project management software.
Get started with modern project management and exploit its full potential.
1. Benefit from a location- and time-independent access
One of the most important
advantages
of
project management software
in the cloud is that all employees can access the solution from anywhere in the world as long as they have an internet connection.
Access is also completely independent, possible via devices such as PCs, tablets, and smartphones, which establish a secure connection to the central management platform for projects.
The employees in your company decide whether to access the cloud-based project management software from home, in the office or a meeting room, or when they are on the go.
This also eliminates restrictive requirements such as using certain servers or using Windows, Mac, or Linux applications at fixed workstations.
Under these conditions, a quick and easy onboarding of new employees is also possible. All you need is a password and the associated user rights. With access, you can get started immediately without requiring complex installations and settings.
2. Provide intuitive and easy operability.
Usability considers the actual use and examines the usage behavior of all employees in the company when dealing with software. The goal is to avoid frustration among the users by making it easy to use and to make their daily work noticeably easier.
A good user experience (UX) creates a positive user experience on all levels. User-friendliness is a central building block of UX.
Project management software in the cloud makes exactly that possible and requires no lengthy training or familiarization periods. The users in your company can get started relatively easily and quickly familiarize themselves with the tools provided.
This is made possible by intuitive tools that are designed so that they are particularly easy to use and optimize everyday work with various functions.
Numerous options underline the intuitive and easy usability. For example, employees can choose which communication tools they prefer to use in practice to exchange information with their colleagues or business partners via instant messenger, video telephony, or video conference in HD quality.
3. Enable efficient collaboration
More and more companies are combining teams in the local office and at various national and international locations with colleagues who work from home. A cloud-based project management software supports decentralized teams in their work and guarantees an exchange at any time.
A cloud-based solution ensures not only reliable data exchange but also real-time collaboration. Hybrid teams, some of which work on-site and others at different locations, and remote teams benefit equally from efficient collaboration, which allows employees to stay in touch at all times.
In this context, it is possible to collaborate on documents simultaneously without unwanted redundancies or deletions occurring.
Collaboration is supported by tools such as task management and to-do lists, which enable individual colleagues and project managers to delegate or share tasks and work on them in a concentrated and productive manner. This avoids overloading or under-challenging the collaboration and allows the distribution of the workload differently.
4. Improve team productivity
Productivity describes the performance of individual production factors such as human resources and capital and depicts the relationship between input (expenditure invested) and output (earned income/result).
With the advantages described above, cloud-based project management software makes it possible to optimize productivity on the team and company-wide.
Teams can better communicate, collaborate and stay connected. These facts enable them to work efficiently and sustainably on projects.
In addition, all necessary information is available to each employee at any time. Valuable information can be systematically collected via an up-to-date knowledge database and made available to selected colleagues.
Comments and additions are easily possible and ensure that information no longer has to be physically written down and shared. This increases the productivity of employees in the long term and, at the same time, collects and stores the company's know-how.
5. Reduce the time investment.
Time is money, and an unplanned investment of time drives up the costs of your projects. Poor scheduling can lead to delayed project completion or, in an emergency, even jeopardize the entire project implementation.
Cloud-based project management software gives you essential time-tracking tools. Via the solution in the cloud, you use Kanban or Gantt diagrams, among other things, to map your projects, set important milestones, visualize, evaluate, and, if necessary, adjust the entire schedule up to project completion.
The time recording gives you a detailed overview of how long it takes to process tasks and how much time colleagues invest.
Project managers thus have the opportunity to precisely monitor the efficiency of projects, advance processes, and ultimately reduce the time required for implementation in the long term.
6. Work cost-effectively
Cost efficiency, which is understood as the relationship between the costs incurred and the services provided, plays an important role in companies to be a success in the market in the long term.
The practical use of specific solutions in companies is associated with the purchase of servers, numerous installations, regular maintenance, updates, and the employment of administrators. This can drive up project management costs.  
Cloud-based project management software does not require the purchase of servers, on-site installations, or additional storage capacities. Another advantage of
project management software
in the cloud is that it often generates positive customer experiences and offers customized support.
These points make a cloud-based project management solution particularly cost-effective. In addition, the associated cloud services are based on monthly package prices, which are significantly lower than the costs for purchasing licenses and make the monthly costs for companies predictable and manageable.
7.Reduce maintenance effort
The software installed in the company on its servers or individual PCs must be serviced regularly to fix errors or maintain functionality. This process can be very time-consuming and requires experienced IT staff.
Cloud-based project management software not only convinces in terms of cost efficiency but also with low maintenance effort.
This is possible because the company can handle software-related requirements and maintenance without its IT department. Because a cloud solution is automatically subjected to software updates, which are made available to users in the company for direct use. If there are any questions about the application, technical support can provide quick and unbureaucratic help.
8. Realize flexibility
Project managers know that projects are associated with numerous uncertainties and that many things turn out differently than originally planned. The associated risks can lead to serious implementation problems.
Cloud-based project management software enables adjustments in real time. It offers the option to make changes at any time, revise schedules immediately based on new findings and developments, and adapt them flexibly accordingly.
Thus, project teams can work proactively and not just react to changes with a time lag. Therefore, project management is always current and needs to catch up to developments in practice.
Even on mobile devices, it is possible to react immediately via apps when exceptional flexibility is required.
Another advantage of cloud-based applications is the scalability in hosting, which allows for further flexibility. With growing teams or changing requirements, new users or additional functional scopes can be added immediately.
9. Provide a high level of security.
As the IT world becomes increasingly complex, the number of cyber-attacks and risks that companies are exposed to when using software solutions is also increasing.
Cloud-based project management software are the most secure cloud services. All uploaded files are kept well protected. Every connection is made via an SSL protocol, which ensures that sensitive company data remains secret and user passwords are not intercepted.
Integrated proactive protection, a so-called web application firewall, protect you from numerous attacks against the web application.
In addition, the project management solution is also available in the cloud 24/7, as two independent data centers and redundant cluster technology ensure maximum availability.
10. Seamlessly integrate applications
To handle a variety of tasks in projects and to work effectively with teammates, customers, and suppliers, companies need integrated services that can be easily applied in practice and facilitate collaboration.
Cloud-based project management software allows you to leverage numerous integrations. New functions and possibilities open up by installing ready-to-use marketplace apps.
This means that applications such as Gmail, Google Calendar, Google Drive, MS Office including Office 365, MS Outlook, MS OneDrive, Dropbox, Mailchimp, IBM Lotus Notes, and many more can be easily integrated individually and depending on the requirements or applications used.
Easily sync data like contacts, companies, and leads between CRM and applications without manual data entry or cumbersome, time-consuming imports.
Conclusion:
This is how you benefit from cloud-based project management!
Cloud-based project management software has many advantages. With the right solution, you can access your project management from anywhere in the world. The daily work and onboarding of new employees are made much easier by intuitive usability and self-explanatory tools.  
Ensure that your teams can work together smoothly, exchange information and access important documents in project management together. Ensure reliable project management at all levels that provide real-time data—benefit from reduced time expenditure, lower costs, and increased productivity.
You can achieve maximum flexibility, scalability, and security with a cloud-based project management solution. Integrate useful applications according to your individual needs and workflows.
FAQ
What is cloud-based project management?
Cloud-based project management means the entire design, processing, cooperation, and monitoring of projects using tools that are made available online. These include tools for task management, employee management, social cooperation, time recording, appointment calendars, CRM, or customer management.
In which areas can cloud technology be used in project management?
Cloud technology in project management can be used, among other things, for online data storage and the associated backup, recovery, and access to data, testing and development, cooperation, HR, customer relationship management and training, or in other areas.
How can projects be managed in the cloud?
Projects in the cloud are best managed by using cloud-based project management, where the software used is easy and intuitive to use, and the progress of the project can be monitored at any time. Project management is made easier in the long term via communication, knowledge transfer, support, and tailor-made tools.
What is cloud-based project management software?
A cloud-based project management software is a technological solution that helps you map the entire project management online and allows teams to complete all related tasks efficiently. Cloud-based project management software can be used according to company-specific requirements and, in practice, support the entire company's productivity accordingly.
What are the main benefits of using cloud project management?
The main advantages of using cloud project management are location- and time-independent access, intuitive, easy usability, efficient collaboration, improvement of team productivity, reduced time expenditure, cost efficiency, and low maintenance. All of this is implemented with the greatest possible flexibility, security, and the ability to be integrated into other applications.