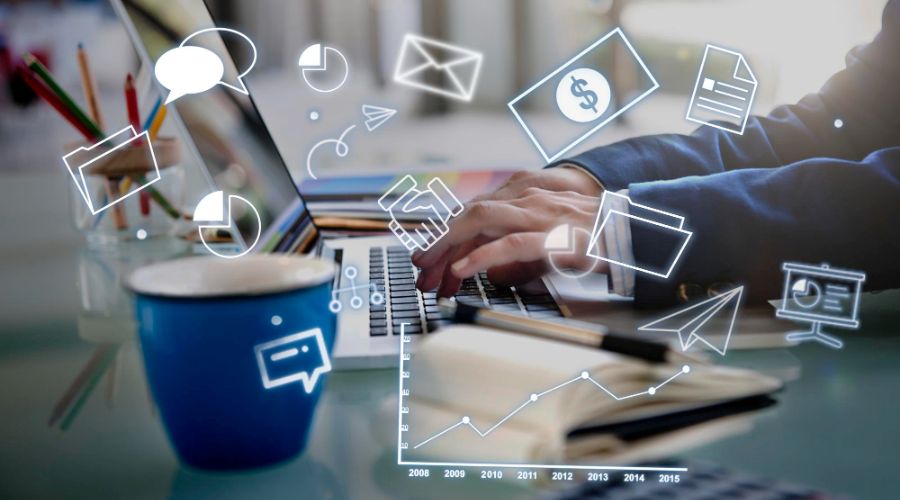 How Digital-First Culture will Enhance Your Business? Embracing the Future
The importance of modern information technologies is steadily increasing. For you to be able to support this change process in companies at all levels, a digital-first culture is required.
But what is a digital-first culture, and how can a digital-first mentality be established in the minds of all employees?
Digital transformation thrives on technology that is developing faster and faster. Paving the way there requires a suitable digital-first strategy and colleagues who put it into practice.
Understand the topic of digitization as a whole, in which the focus is not only on the technologies used but primarily on the people who work with them.
We give you 7 valuable tips for implementing an individual digital-first strategy and thus promoting a sustainable transformation of the digital workplace in your company.
1. Focus on the people in your company.
Realize that the digital-first work culture is only lived if your company is about more than just implementing the latest technologies. Rather, a central key element is how your employees feel about it and how they can work with it in the future.
Each individual not only perceives their specific role in the company but is also influenced individually by impressions, life experiences, and emotions, but also by current situations such as upheavals or stress. You should always keep this fact in mind, even if individual teammates, among others, may initially react to the digital change with rejection.
Always put the human component in the foreground in all decisions and pay particular attention to colleagues' fears. It is not uncommon for employees to shy away from change and fear serious cuts or even the loss of their job due to digitization.
Always remember the importance of digital-first and the fact that a digital working world should serve people rather than the other way around. You can make other decisions and involve your employees on this important basis.
2. Communicate a clear vision and digital-first strategy.
After you have sharpened your awareness, it is now important to create an understanding of the digital transformation in the minds of your employees.
You can achieve this by ensuring transparency and clear communication. In this context, ensure that all employees not only know your company's digital vision but are also integrated into the digital-first strategy.
Only if all employees know exactly where the digitization journey is going well, they promote a common digital-first mentality and develop an understanding of the advantages of the transformation and that certain concerns and fears associated with it may be unfounded.
When onboarding new colleagues, offer transparency about the technical tools used, skills, and digital working style, and keep long-standing employees up to date and get their feedback. They must be included in important decision-making processes from the outset.
Only if you know exactly how the individual members of a team deal with the digitization process can you specifically influence it and counteract any negative tendencies at an early stage.
3. Exemplify the digital-first work culture.
The digital-first work culture is based on an associated mission statement. The behavior of upper management is decisive for this. Managers should always lead by example and show they are actively using newly introduced technologies to improve their workflows.
For example, if the company requires certain software tools to manage tasks and projects, project managers should be the first to process their entire project using the selected application.
Nothing is more destructive in a Digital First process than managers who still stick to old manual methods and outdated tools instead of actively using the newly introduced technologies.
Always pay attention to the associated role model function. Only if this is the case will the digital-first culture in the company be implemented by all employees and promote productivity at all levels.
Also read :
Online Reputation Tactics
4. Select appropriate software tools.
The success of the digital transformation process in your company depends heavily on using new technologies. The primary aim is to find a solution that optimally maps and simplifies your business process.
In the context of the digital-first work culture, tailor-made software solutions support the various business areas and ensure they can work efficiently and with foresight.
Through a central platform and agile project management tools, offers, digital-first companies can use various tools across departments and roles, including project management, shared diaries, document sharing and collaboration tools, and communication tools, including a suitable tool for conducting video conferences.
The strategic digitization associated with tailor-made software tools minimizes the risk of employees missing out on important information, forgetting to-dos or appointments, or data being stored twice or lost. Projects can be planned in detail and carried out well-structured and efficiently.
5. Foster digital collaboration
When implementing the digitization process, it is about communicating the importance of digital-first and clearly emphasizing its advantages in everyday work. The best way to do this is to encourage online collaboration and make it as intuitive and easy to use as possible.
Digital-first works for culture Cross-departmental teams, for example, in procurement, marketing, and sales, can work together seamlessly via a uniform platform and exchange data in real-time.
Versatile solutions for collaboration offer the right tools for planning and brainstorming. But also for a targeted exchange of knowledge, systematic training, and further education is supported by developing a company's knowledge database.
With this approach, you ensure improved cooperation, enable all employees to work remotely, hybrid, or in the office, regardless of location and time, and exchange information with colleagues in the desired way.
With forward-looking time management and personal and shared calendars, you offer maximum transparency around collaboration, including vacation, sick days, or absences due to business trips.
6. Conduct regular meetings
For colleagues who work exclusively remotely or are not often in the office, staying on top of current business and growth developments and adapting to the digital-first work culture can take time and effort. Unfortunately, there is often a backlog of information or even a feeling of exclusion and a need for more appreciation for one's work.
In this context, it is advisable to hold regular weekly meetings that ensure that all employees, regardless of their departments and tasks, are up to date and, at the same time, maintain personal contact with their teammates.
An integrated video conferencing tool enables the exchange in HD quality and gives the feeling of being in the same room with colleagues. In addition, individuals can carry out presentations that all participants can follow in real-time.
In line with this, queries should be possible at any time to ensure a complete and transparent exchange of information. In this way, you pick up all your colleagues exactly where they are with their current level of knowledge and enable them to complete their upcoming tasks independently.
Create a virtual meeting etiquette that captures the basic rules and standards of communication. It also defines manners, the basis for honest discussions, and speaker and break times.
Prevent aggressive behavior or irrelevant discussions from the start by explaining the rules for virtual meetings to all participants and repeating them regularly.
This may include principles for microphone or camera use, particularly during presentations. It is also important to specify non-meeting days on which colleagues can devote themselves fully to their tasks and work through them without interruptions.
7. Rely on team-building measures.
To establish the digital-first work culture in the long term, belonging, and mutual understanding play a central role. Awaken and strengthen the sense of togetherness in the company. Maintain it, regardless of how often your employees meet in real life.
You can do this by using targeted team-building measures. There are almost no limits to your creativity when it comes to implementation. Exchange ideas with your teams and actively ask which joint activities are considered particularly valuable to strengthen the sense of community. Are colleagues already involved in the planning? Are they positive about team-building activities?
It is best to approach it playfully by relying on online games and gaming situations where your colleagues can get to know each other and demonstrate your team spirit while having fun. Avatars make it easier for introverts to connect with others and become active.
Online courses on specific topics also ensure that your team can build knowledge together and that cohesion is further promoted. Especially when you face problems and challenges together that you can solve better in the future because you have systematically acquired the necessary know-how through online tutorials and joint live sessions.
Also popular are virtual coffee rounds and joint dinners, where all participants receive the food beforehand, for example, via a delivery service, before they meet virtually to eat together and exchange ideas.
Let your imagination run wild, and always try something new. This will gradually grow and strengthen the cohesion in your teams.
Digital First Work Culture: How to Realize the Transformation of the Digital Workplace in Practice!
In our article, we answered the question of what a digital-first culture is and put together specific tips for putting it into practice.
Digitization is not a static or one-off process. Always remember that the digital-first work culture involves continuous effort and depends heavily on continuous development.
Always implement your efforts in the overall context and ensure that you involve your employees in all digitization processes in the company. Please encourage them to give you regular feedback and actively contribute their ideas for improvement.
Another important point:
Take constructive criticism seriously. This is the only way to determine which digital approaches work for your company and how you can sustainably support productive work. With this approach, you also ensure that you address all employees and establish a strong digital-first mentality in their minds.
FAQ
What does digital first mean?
Digital First means that all company processes, products and services, communication, and other focal points are geared toward digital transformation. The sooner this process is implemented, the higher the probability of successfully entering the future-oriented digital world with an individual digital-first work culture.
What does a digital-first strategy include?
A digital-first strategy includes integrating all digital technologies into your business model. With the help of such a strategy, digital orientation, structuring, planning, and implementation takes place, ensuring that companies can act competitively in the market in the long term.
What are the benefits of a digital-first culture?
A digital-first culture provides rapid growth, innovation, and future-proof organizations. They not only remain flexible and adaptable but ideally set new standards in digitization.
How do you establish a digital-first mentality?
A digital-first mentality is established in employees' minds by communicating a clear digitization vision and strategy by rethinking day-to-day work and its technologies. Even the smallest everyday to-dos are tested to implement them as effectively and agilely as possible while keeping an eye on constant digital change.
Which challenges have to be mastered with digital-first in companies?
In the context of Digital First, companies face challenges, especially concerning understanding the associated technologies. It is not just a matter of providing software solutions but of selecting tailor-made software tools for the company. The focus is on digital thinking and the knowledge of which manual processes can be optimized through digital workflows and implemented consistently across all applications and end devices.