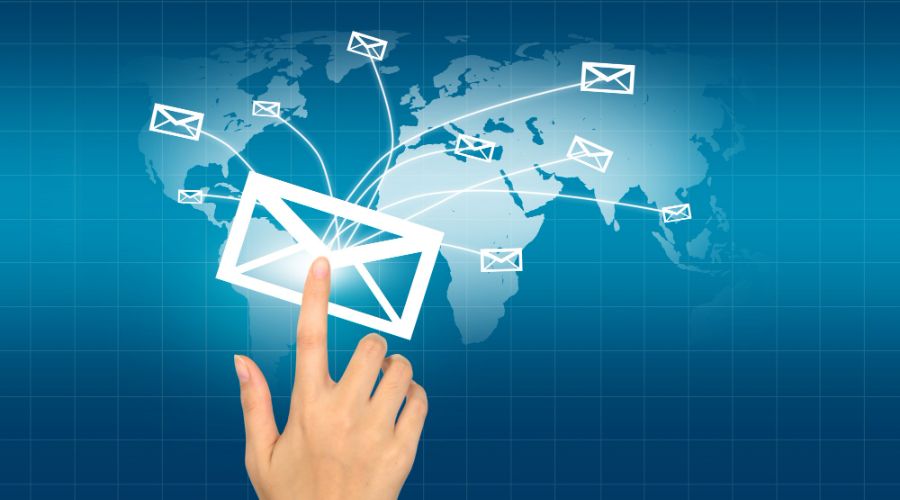 Best Email Hosting Services Provider in 2023
Do you believe Facebook, texting, mobile messaging, and chat apps will eventually replace emails? Since 2017, the number of e-mails sent and received internationally has climbed each year as the internet has become more accessible. In 2021, there were an expected 319.6 billion e-mails sent and received daily around the world. By 2025, this figure is expected to rise to 376.4 billion daily e-mails.
We list many top-notch email hosting companies that focus on email and workplace productivity for you in this article. Then, we'll introduce you to many web providers that also offer dependable email hosting packages in case you want to buy web hosting and email from the same provider.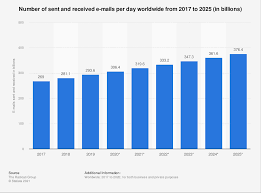 Source- Statista
Email software: What is it?
Within a business, email serves as the primary channel for both internal and external communication. As a result, it's essential to implement software that is simple to use, well-structured, safe, and effective.
Your business can also use email software to run marketing campaigns, interact with customers, remind staff to complete tasks, talk with coworkers, organize meetings, and more. What email software you choose should be based on your business's size, industry, security needs, storage needs, and cost.
Advantages of Email Software
Exchange critical business communications with coworkers

With email marketing initiatives, increase outreach

Send and receive crucial business communications ‌and from anywhere.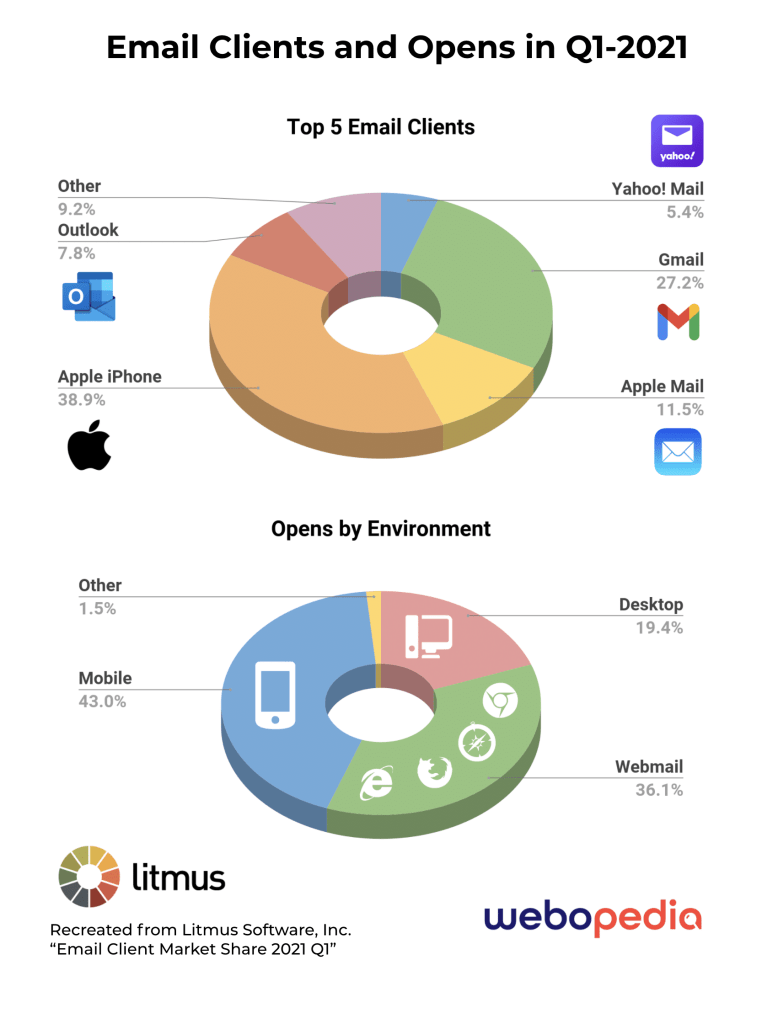 Source: Webopedia
Best Email Hosting Services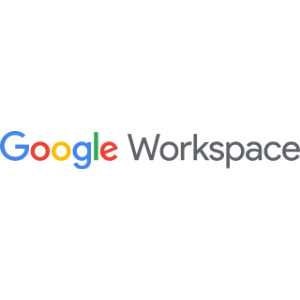 Choosing Workspace or Microsoft 365 as the first email provider on this list was truly a coin toss. Both are top-notch. In Workspace, Google Docs, Meeting, Calendar, and other apps are integrated with an enterprise-level Gmail management interface.
Workspace's pricing is much easier to comprehend than Office 365's. Microsoft provides a wide range of programmes and choices that are also included into its other price models for licensing. Depending on the management functions you desire, Google gives you simply three straightforward options: $6 per month, $12 per month, or $18 per month per user.
Unfortunately, the non-enterprise plans lost their unlimited storage when G Suite changed to workspace. The unrestricted storage made G Suite indispensable, even if it was already enticing on its own. Workspace is no longer as appealing because of the removal of that feature, but it still manages mail admirably.
Key Elements
Domain name.

Box sizes for mail: 30GB, 2TB, and 5TB.

Protection against spam and viruses: yes.

False names: Yes.

24/7 customer service through chat, ticket, or phone.

Depending on the plan, archiving and storing
Pros
5TB or more of storage

Adaptable pricing

Common knowledge for Gmail users
Cons 
Doesn't provide limitless storage for businesses.
Pricing:
Between $6 per month to user requirements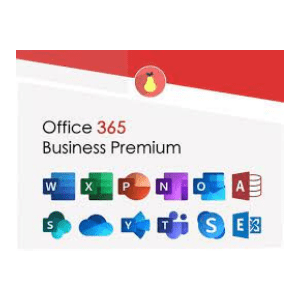 You can use the best email hosting service if you are a Microsoft client.
Microsoft 365 is replacing Office 365 because, well, why not? However, not completely. Users at home will still receive Office 365. Although this is a fantastic tool, experts really believe that Microsoft intentionally confuses people with its branding revisions. It seems like a pastime or something.
Microsoft 365 includes all the desktop Office products, all the Office online apps, all the advantages of Exchange, calendaring, mobile apps, and more. Additionally, you should pay for Microsoft 365, primarily for the Office programmes. That being said, Office, er, Microsoft 365, is a great choice. And if you adore using Outlook as your email client, Microsoft 365 will be a breeze for you.
Key Features
Domain name.

1TB and greater for cloud storage.

Protection against spam and viruses: yes.

False names: Yes.

Depending on the plan, archiving and storing
Pros
Begins with 1 TB of cloud storage

With 24/7 assistance, spam and malware protection

24/7 customer service through chat, ticket, or phone.
Cons
Pricing:
Between $70/year to $110/year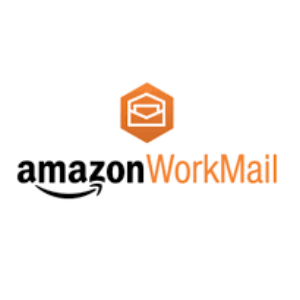 You are viewing an email that is AWS-hosted. That's essentially the benchmark for cloud environments, existing on a rarefied level alongside only Google and Microsoft Azure. WorkMail connects with all other AWS services because it is an AWS-based service, enabling you to create a relatively robust, bespoke cloud infrastructure.
Experts wouldn't always recommend WorkMail if you're a tiny business attempting to put up a few email boxes. AWS can be a little challenging to comprehend. But if you're building a cloud-based corporate infrastructure and require a lot of flexibility, security, and Active Directory connectivity, WorkMail is clearly a practical and tried alternative.
Key Features
50GB mailbox size

Protection against spam and viruses: yes.

False names: Yes.

24/7 customer service through chat, ticket, or phone.

Extra charge for archiving and storage.
Pros
Unique domain names

Combines with additional AWS services

Fantastic for bigger enterprises
Cons
Archiving is more expensive
Pricing:
Starts from $4.00/month
Also read :
Best Shared Hosting Services Providers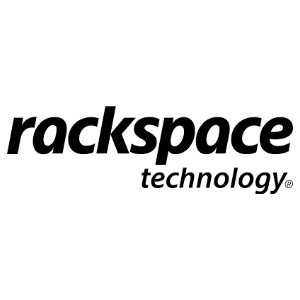 One of the first companies that offer cloud infrastructure is Rackspace. The business now provides a variety of infrastructure-as-a-service alternatives, such as full Exchange hosting, Microsoft 365 management, and conventional email hosting.
The business offers support for current Microsoft Enterprise Agreements, a sizable staff of MCSA-certified employees, and aid with migration from other hosts.
Key Features
Your website address:

Box dimensions Unlimited

Protection from spam and viruses: yes

Alternate names:

Archiving and storage are extra costs.
Pros 
Infinite mailbox size

Microsoft integration help with Migration

24/7 help: Message, ticket, or call
Cons 
Archiving is more expensive
Pricing:
Starting from $499/month to user's requirements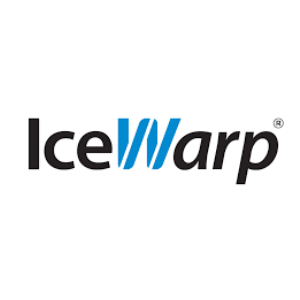 You know, you have a lot of time to contemplate when you're stranded at home during a global pandemic. I've also been considering the moniker IceWarp. It is without a doubt the best name among all of our hosting providers. IceWarp is a business that previously sold installable mail server software that competed with Exchange.
Its cloud services now provided mobile apps, archiving, web meetings, audio and video chats, shared contacts and calendars, mailing list management, collaborative document editing, and shared contacts and calendars. These features were available with even the most basic membership. However, it continues to offer a means of transportation.
Key Features
Includes 5GB, 100GB, and 500GB mailboxes.

Protection against spam and viruses: yes.

False names: Yes.

24/7 customer service through chat, ticket, or phone.

Storage and archiving are included.
Pros 
500GB inbox and collaborative document editing

Calls with audio and video

Archiving is a part of the plan cost.
Cons
Top-tier plans only have larger inboxes.
Pricing:
Starting from $2.80/month to user's requirements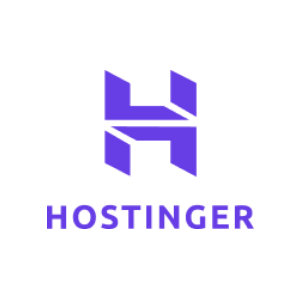 When evaluating website hosting companies, several professionals gave Hostinger quite favourable reviews. It should be mentioned that they include email accounts and mailboxes in the company's shared web hosting plan.
Having said that, Hostinger's dedicated hosting solution takes things a step further by utilizing the Titan email hosting service. The Titan email hosting service offers integrated calendaring besides capabilities for managing and scheduling emails.
Key Features
A 10GB or 30GB mailbox is available.

Protection from spam and viruses: Virus.

False names: Yes.

24/7 assistance: Message, ticket, or call (surcharge for priority support).

Storage and archiving: No.
Pros
Plans for web hosting include email hosting

Round-the-clock help

Capabilities for managing and scheduling emails
Cons
Pricing
Starting from 2$ per month
Conclusion
This article's conclusion is now at hand. Now that you've read this, you know everything there is to know about the finest email hosting services for small and medium scale organizations. These days, email marketing is an essential aspect of any digital company. When wishing to expand your business, now is your chance for stepping forward and getting an email hosting service. With the help of a trustworthy email hosting provider, you can expand your business, enhance customer service, and draw in more customers by utilising several emerging marketing channels.
To get the greatest advice on how to start your SaaS business, marketing of your product and the analysis of your business, trust Saasberry as your consulting partner. We remain together and cohesive to help you receive the best Software as a service and consult you in paving your synergies.
FAQs
Can I obtain free email hosting?
Because Zoho Mail's free plan offers the most email addresses and mailbox storage per mailbox, experts suggest it if you're only interested in email hosting. There are many tools to keep you organised, and the simple dashboard makes it simple to create and manage accounts.
What is the cost of hosting an email address?
Email account limitations, allocated email storage, email aliases, customer support, and the hosting company all affect how much email hosting costs. The average monthly cost for email hosting is between $1.99 and $10.99.
What software is required for email hosting services?
For basic email sending and receiving, your email hosting provider must handle the protocols of SMTP, POP3, and IMAP. Presentations, docs, files, and hangouts are just a few of the extra capabilities that most email hosting agencies offer.
Which email hosting services provider is ideal for small-scale businesses?
There are so many email hosts, however, there are several widely used email hosting platforms offering services. The following are included:
Google Workspace

Cloudways Rackspace

Zoho Mail

Office 365 Outlook

Mailgun