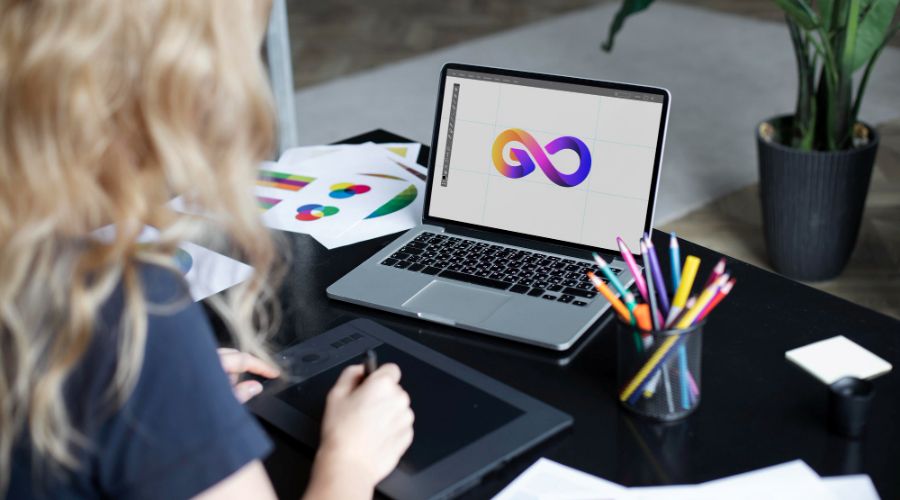 Best Free Logo Maker for your Business in 2023- Reviewed by Experts
There are several ways to create your logo. There are several possibilities, including online logo builders, freelancers, design firms, and contests for logo designs. Your immediate need, finances, and time constraints are all important considerations.
If you want to build a logo quickly, easily, and affordably, go no further than a logo maker. A DIY logo is a terrific option for a one-time project or even as a mock-up logo for presentations and pitches. It can be helpful if you require a good stand-in logo for your brand while it is still growing. Using a logo maker, you may create a logo that represents your company and use it as inspiration if you choose to hire a designer in the future. They can be used without any prior design knowledge or experience.
How To Interpret A Logo Maker?
The terms "logo maker," "logo creator," and "logo generator" are also occasionally used. A logo builder's intended usage is implied by its name—you use the programme to generate your design by entering simple information. This includes information like your company name, industry, and chosen aesthetic and instructs the designer to develop a huge number of appropriate logos.
They accomplish this by employing artificial intelligence to analyse the data you supply, and they then reference their very own library of various design elements to present you with possibilities to think about. Apple (2839 votes), Nike (2418 votes), Coca-Cola (2275 votes), Mercedes-Benz (1658 votes), and Adidas (1507 votes) are the top-ranked company logos in 2021. (Ranker).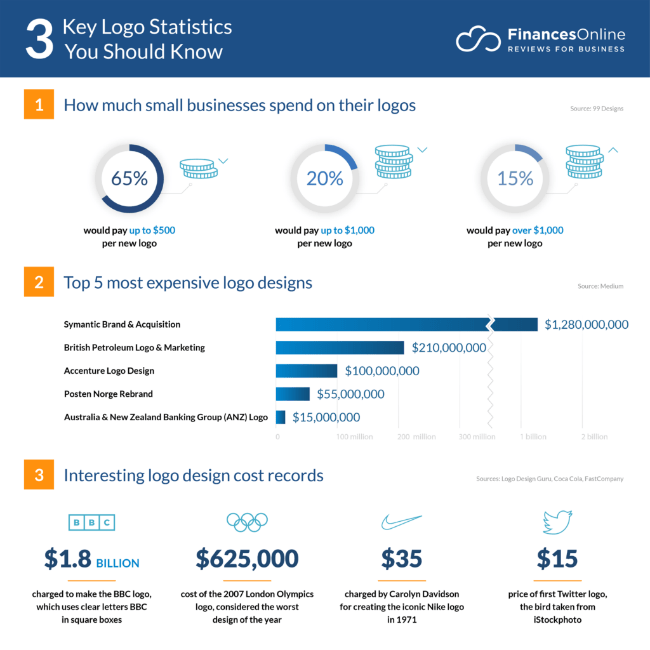 Source-Financesonline
They often lead you through the process step by step and are really simple to use. For some, all you have to do is type in your business name, pick an icon or font from a library of pre-made ones, and choose customized colors that work with your brand. It is simple to make a logo. While offering all the tools you need to create your own logo, including a blank canvas, a set of icons, and instructions, others give you additional creative and customizing possibilities.
Top Logo Makers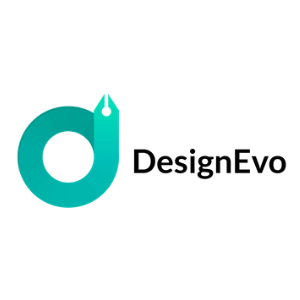 Simple logo ideas can be realized using the most user-friendly, customisable online logo builder. It permits creating a logo concurrently to jpg, png, transparent png, and svg and is usable by users of all ability levels. Likewise, if you'd like, you have the option to just begin from scratch. It is a way of working to produce many logos without the need for specialized graphics tools.
Pros:
It provides many templates, both high quality and standard resolution, meeting the needs of everyone.

The lovely layouts are arranged in an orderly fashion. You can quickly locate anything you require.

Possibly the most knowledgeable and user-friendly tool for developing logos is DesignEvo. It allows for the quick completion of some complex editions.
Cons:
There aren't enough templates, so you run the chance of not being able to locate one that works for you.

Your selection of editing tools is limited. You can only add texts and shapes and modify their colors using the tools.
Pricing
Design Evo Free
Design Evo Pro $24.99 to $49.99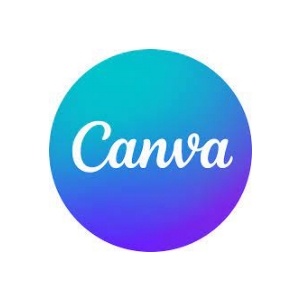 One of the majorly preferred open-source logo makers is Canva. It shines at helping people create covers for posters, Instagram, and Facebook. Even though you're just enjoying a leisurely online browse, you'll find yourself captivated by all the lovely layouts. Canva Logo Maker is very well-liked because of its dedication to generating templates and streamlining the creation process.
Pros: 
Canva offers lovely and common logo templates while allowing you to create a logo using your own images.

It is easy to locate the most recent layouts for holidays or major occasions because they are often updated.

There is no need to register.
Cons:
Canva is mainly useful for designing posters and social media post covers. Traditional logos cannot be created for use in a company or on major occasions.

The order in which the layouts get displayed is haphazard.
Pricing
Canva Free
Canva Pro $43.99 to $79.39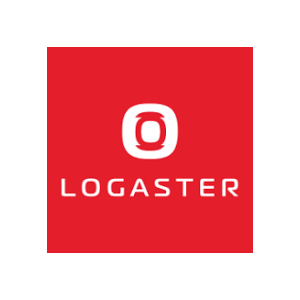 The Logaster Logo Makers will gather thousands of different logos when you enter the name of your business to choose from. Just different colors are used to generate the logos. In the absence of registration, you are unable to download the logos you desire. The users cannot add the backdrop colour through a portal. Users cannot upload the logo they own logo images for editing.
Pros:
The layouts are lovely, and it is easy to check how logos actually appear on many name badges or documents or files by visiting the website.

It will just take a brief while to complete the full process.

Users can upload their own images as well.
Cons:
You must register in order to keep the logo preferred.

There are no re-editing options available.
Pricing
Logaster Logo Maker free
Logaster Logo Maker ProBetween $5.99 to $26.99
Also read :
Infographic Maker Tools | Easy to Create Infographics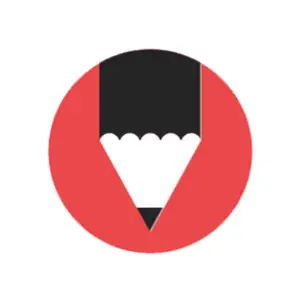 YouiDraw is a software that allows you to take notes and turn your ideas into reality. The service for creating logos is based on any website and an app, and you can use this app even without an Internet connection because it is competent and has numerous capabilities for modifying logos that many people value.
Pros:
It offers many wonderful capabilities, such as the ability to edit SVG files and add light effects, and is virtually as professional-looking as PhotoShop.

However, compared to PhotoShop, it is easy to use.

The program can help you store your work on a computer or cloud storage, for example.
Cons:
Registration is required prior to editing.

Although it is simpler to use as compared to the PhotoShop logo, beginners may find it challenging to navigate.
Pricing
YouiDraw Free
YouiDraw Pro Between $9.99 to $99.99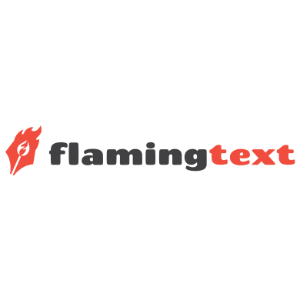 Just like CoolText, Flamingtext is more suited for people who merely require logos with text. But it offers more font choices. In just a few simple measures, it is easy to make a stylish, hip text logo. Free graphic design tools are available on FlamingText.com, all of which can be used directly in a browser without the need for downloads or installations. Using our incredibly popular Logo Design Tool, creating logos is incredibly simple. It gives users access to the largest collection of excellent, quickly editable logos on the internet. Additionally, we provide Imagebot, a potent svg-based graphics editor with drawing, sticker, and logo functionality. It can be used to make banners, invites, and much more that appear professional.
Pros:
It includes several fonts as compared to other open-source logo creation tools, which is one of the reasons it is recommended.

It gives you more editing options, including those for size, shadow, and backdrop.

When saving a logo you created, you can even select the format.
Cons:
This elevated branding option is designed for people who need a text-only logo.

It is essential to register.
Pricing
Flaming Text Free
Flaming Text Pro Between $3.99/month to $9.99/month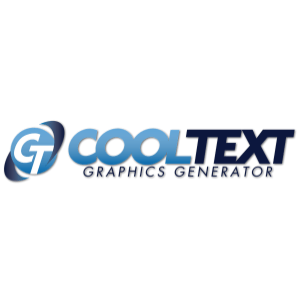 It is an open-source graphics maker. When you require a standout logo, this tool is the best available. To help you build a logo, it offers 128 different types of typefaces. You can simply choose the kind of logo and format you want a logo off and then you can simply create a logo you want for your business or startup. The best part is that you can create unlimited logos for free.
Pros:
You may make logos using a variety of typefaces.

Choosing your preferred font and making a small change are the only steps required.

When saving a logo you created, you can even select the format.
Cons:
It only creates text-based logos. Although it is easy to add additional text shapes, the logo maker works well for people that require a straightforward logo.

It is essential to register
Pricing
CoolText is Free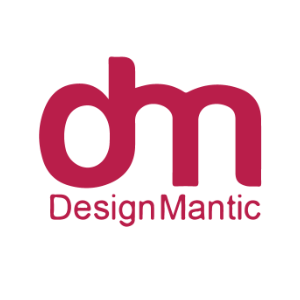 It is a free logo generator online is DesignMantic. You may create your own logo in only 3 steps—enter your company name, choose your industry, add shapes, and download. The best part about DesignMantic is that you can get free templates for your website. You just need to drag and drop the design you want and you are good at going with the design, whether it is a website or logo or your creative.
Pros:
It is so incredibly simple to use that all beginners can create any logo.

Registering is not even required during the procedure.

You can reach customer service Monday through Friday from 9:00 to 17:00 EST.
Cons:
There aren't enough templates; you run the danger of being unable to discover one that works best in your favor of you.

Your selection of editing tools is limited. Using the tools, you can only add any text or shape with modifications in their colors.
Pricing
Designmantic is Free
Conclusion
A logo maker may be the best option for anyone who needs a logo quickly and at a reasonable price. Even though having a logo is sometimes necessary, doing without one is unacceptable. The options presented above should have shown that getting something respectable (and frequently astonishing!) is possible without putting in a lot of effort. If quality and originality are more important to you than time and cost, you might start a collaboration with a designer.
You know exactly where to create your brand's logo now. Get motivated and start making! Now that you have all the tools and resources above at your disposal, you're well on your way to designing your own logo.
Regarding the SaaS platform your company requires, we at Saasbery offer full consultation. Call one of our specialists for a 1-on-1 consultation today. They have over 18 years of experience in the field and employ techniques that have been successful in the market.
FAQs
What are guidelines to follow for Best logos?
Basic Principles of Logo Design
Your organization should be accurately and distinctively represented by your logo.

Don't go into too much detail.

Your logo ought to print effectively in monochrome (one-color printing).

Make certain that your logo is scalable.

Your logo should have a pleasing visual balance.
Why is a logo important for businesses? 
A strong logo conveys the owner's intended message and is simple, recognisable, appropriate, and usable. An excellent logo often conveys the desired message through an idea or "meaning."
How can a logo helps clients?
A quality logo can provide brands with important advantages. It can facilitate brand recognition, facilitate brand differentiation from rivals, sway investor decisions, and communicate the essence of a brand.