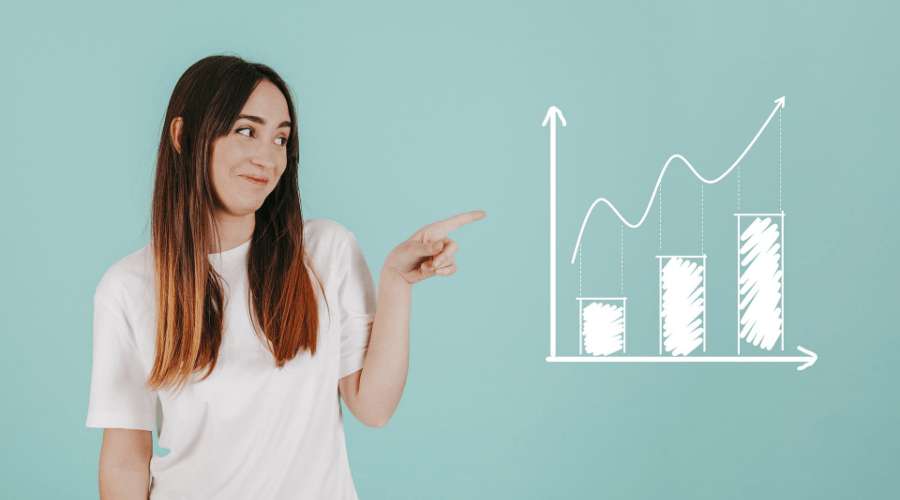 SaaS Market Statistics: History, Usage And Growth
Software-as-a-service seeds were founded back in 1961, and it has been growing since then. Unfortunately, though, many companies were not convinced to use it until recent years. Then, the era of on-premises and conventional software ended, and a new innovative generation took place. It didn't come as a surprise; it was sure to happen. But the surprising part is that it took tremendous growth in the past decade, and now it is the most influential segment of the IT industry that uncountable organizations rely on.
These SaaS market statistics can understand the importance of the SaaS sector in the modern era:
SaaS Market Statistics 
#1. The SaaS industry is worth around $172 billion in 2022.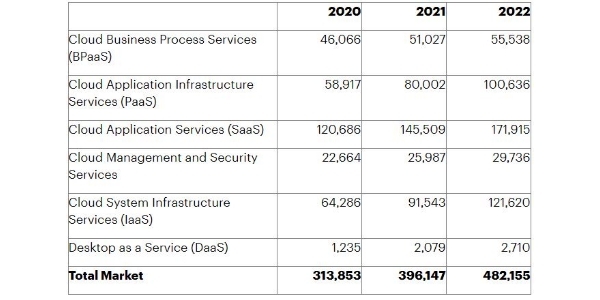 In 2015, the industry was worth $31.5 billion, and in 2022, its worth has been boosted to approximately $171.9 billion. In seven years period, it has witnessed a 5X growth. The annual growth rate will surpass 17% probably by the end of the year 2022. (Gartner)
#2. The industry is expected to reach $208 billion by 2023.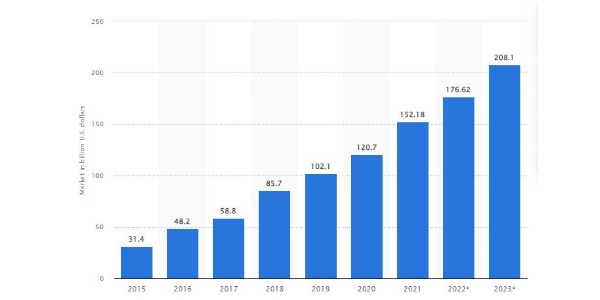 As per the above numbers and forecasts by industry experts, it will not be a surprise if the industry's worth reaches around $208 billion by the end of 2023. Currently, it is growing at an average 18% yearly rate.
#3. The combined market cap of the 10 largest SaaS providers exceeded $1 trillion.
SaaS vendors often show explosive growth in their valuations. The top 10 most prominent businesses globally are now worth more than $1 trillion combinedly. The median value of the largest 50 SaaS businesses reached $21.5 billion, which saw an increase of 179% in comparison to the previous year. (Saastr)
#4. More than 20,000 businesses offer SaaS products/services.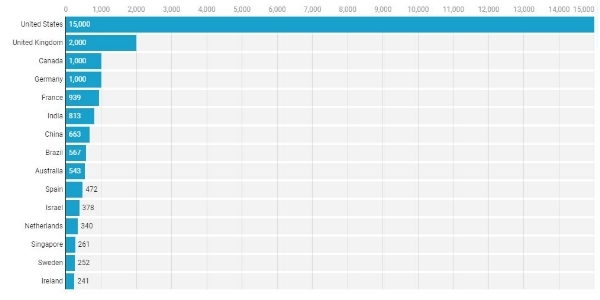 SaaS vendors are increasing in numbers exponentially. Currently, there are 20,000+ organizations offering at least one SaaS product. So maybe the cost of starting a new company is cheaper than before. (Enterpriseappstoday)
#5. The corporate mobile SaaS market was valued at $7.4 billion in 2021.
As mobile apps are easy to use and accessible anywhere, users tend to purchase subscriptions from those providing an excellent mobile application. So, SaaS vendors also focus on the mobile app interface along with the desktop. (99firms) 
SaaS Adoption 
#1. Companies that employ more than 1000 employees use 150+ SaaS platforms on average.
SaaS applications are more helpful for large organizations and MNCs. If seen in ascending order, companies with 50 or fewer workers use 16 SaaS applications. The number increases to 24 for 50 to 99 employees. It is a whopping 50% increase. And again, the digits increased. Companies with 100 to 500 employees use an average of 47 applications. And organizations or MNCs having a workforce of 1000+ employees use an average of 177 applications. (Enterpriseappstoday)
#2. SaaS platforms hold up to a 70% stake in the company's total software use.
The adoption of SaaS applications has skyrocketed in past years, and it's not unfair to say that it will continue furthermore. The average number of SaaS platforms used per organization constantly increases every year. The number was eight apps in 2015, 12 in 2016, and 16 in 2017. By the end of 2021, the average number increased to 80. Keeping these figures in mind, there is an estimate that 85% of systems used by businesses will be SaaS by 2025. (Bettercloud)
#3. 38% of businesses totally rely on SaaS for running their operations. 
SaaS streamlines the work and provides flexibility, so its adoption is much higher. And enterprises dealing in the IT industry can leverage it easily. Additionally, costs can also be reduced; that's why 38% of companies operate entirely on SaaS. (Zippia)
#4. The SaaS adoption rate grows at 20% per year in the healthcare industry.
SaaS offers numerous advancements in the healthcare industry. AI is innovating many things, simplifying the work of medical professionals. So, it is gaining considerable momentum. (BMC)
#5. Average SaaS applications used by companies increased by 33% from the previous year in 2018. Around 73% of businesses predicted that more than 80% of their apps would be SaaS by the end of 2021.
The adoption of cloud platforms is boosting every day, and the statistics show its proof. As a result, businesses are more likely to adopt the SaaS model in the near future for ease of work. (Webtribunal)
Spending Benchmarks
#1. 20% of organizations' SaaS spending was not affected by Covid-19.
Out of 908 respondents, 22.5% stated that the pandemic had not impacted their spending on SaaS. 44% of respondents reported reduced expenditures as an impact of the pandemic. On the other hand, 30.4% of enterprises claimed increased spending. Perhaps due to the remote work model. (IDC)
#2. By 2023, all-size companies' SaaS spending will reach nearly $500 billion.
The compound annual growth rate(CAGR) for SaaS spending is 23%. As the SaaS applications provide easy-to-use functionalities and flexibility in work, organizations tend to spend more money on them. For instance, the total spending was $229 billion in 2019, which is projected to reach $500 billion by the end of 2023, more than 2x growth in just four years. (Fiercetelecom)
#3. 64% of businesses are planning to continue with the remote work model after the pandemic. Therefore, cloud spending is expected to rise significantly in upcoming years.
During the Covid-19 crisis, numerous companies adopted the remote work model and started to manage their operations on SaaS applications. And now, after the pandemic, 64% of them are considering retaining the setup. Probably they cut various costs and increased profitability, so they are likely to continue it. (SWZD)
#4. The overall spending on SaaS per company has increased by 50% in comparison to two years ago.
As the SaaS industry continues to evolve, businesses prefer applications with more advanced features and a good user experience. So, they spend more and more for their ease of work. (Vendr)
#5. The average cost of SaaS subscriptions per employee was $2884 in 2018.
SaaS spending per company is growing rapidly. SaaS holds less than a 15% stake in the total expenditures of a business, and still, it enables work efficiency. Therefore, organizations tend to focus on it. (Vendr)
Also read :
Top SaaS Trends - Every Company Should Follow
Churn Rate
#1. The median SaaS churn stands at 20% for companies making less than $10 million in revenue per year. 
Businesses with less revenue are at a high risk of getting a higher churn rate. Organizations that make more than $10 million in revenue annually have an average churn rate of 8.5%. However, the SaaS churn depends on business scale and maturity. (Martech)
#2. An acceptable churn rate for SaaS businesses is 5% to 7%.
32% of companies have experienced a 5% annual customer churn, while 32% had churn between 5%-10%. On the other hand, 17% of respondents experienced a 10%-15% rate, and 20% of businesses have suffered more than 15% churn. (Messaged)
#3. According to a survey by Slideshare, 70% of companies decreased their churn rate or haven't seen any change, and the other 30% of respondents reported an increased churn rate.
34% of respondents witnessed a decreased churn rate, while 36% of businesses saw no change. 30% of organizations reported an increase in churn over one year. (Slideshare)
#4. Average low-growth companies are at risk of experiencing higher churn rates. 
High-growth companies are more likely to retain customers. 34% of rapidly growing SaaS companies experienced a churn rate over 10%, and 39% of them stated lower than 5% churn. On the other hand, 42% of low-growth businesses witness a constant rise in churn. (Reply)
#5. SaaS businesses that target SMBs have a whopping 58% churn rate.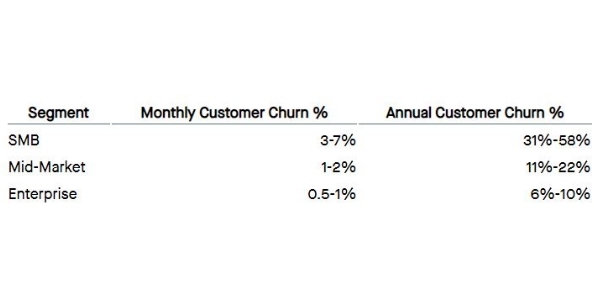 SMBs more often switch from one product to another to lower costs. However, it results in a higher customer churn rate for SaaS companies that primarily target SMBs. (Tomtunguz)
SaaS Providers' Significance:
#1. Zoom saw a 6X increase in its revenue between 2018 and 2021.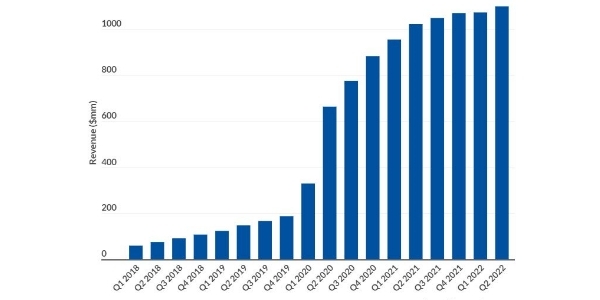 Video conferencing applications are emphasized more and more after the pandemic. Zoom is the conferencing platform space leader with a whopping 270 Million USD revenue in 2021. It had a revenue of 45 Million USD in 2018, which then saw constant jumps. (Businessofapps)
#2. Adobe is now on the list of the largest public SaaS companies, with a valuation of around $200 billion.
With annual revenue of $16 billion in 2021, Adobe has a constant upward in its revenue, surpassing a $200 billion valuation. (Macrotrends)
#3. More than 66% of Oracle's total revenue is derived from cloud services.
Oracle has turned its focus to the SaaS sector in recent years. And we can say that it is dominating cloud services. Nearly $29 billion was generated as revenue from cloud services from the total company revenue of 41 billion.
#4. Top SaaS providers are enjoying great revenue growth in Q1 2022.
The market leader Amazon reported revenue of a whopping $116.4 billion in Q1 2022. While Google was the second largest revenue generator ($68 billion), followed by Microsoft($45.3 billion). IBM generated $14.2 billion from its cloud services. (TheVerge)
#5. Top cloud companies have increased their valuation by 44 times in recent years. 
From 2007 to 2022, numerous SaaS vendors have achieved impressive growth in valuation. Adobe, PayPal, Grammarly, Slack, and many more companies are top performers on the list. (TheVerge)
General Statistics:
#1. The United States has over 8x more SaaS companies compared to other countries. 
The US has over 16,000 SaaS businesses registered. It accounts for 61.3% of all SaaS businesses in the world. The next largest market is the UK with 2000 organizations, followed by Canada(1000) and Germany(1000). The top Asian SaaS market in India with around 813 companies. (Explodingtopics)
#2. Around 10,000 SaaS tools are serving the marketing industry alone.
The number of SaaS marketing tools has grown exponentially. In 2007, the average marketing tools were 500, which reached over 10,000 in almost 15 years. (99firms)
#3. 44% of paid SaaS product vendors provide a free trial program.
Free trial options help users test how the product will be useful in their routine activities. And it can result in the company's high retention also. (Virayo)
#4. 98% of SaaS businesses experienced positive outcomes from dynamic pricing.
Dynamic pricing is the practice of varying the price for a product or service to reflect changing market conditions. This approach focuses on maximizing revenues by following a flexible price structure that changes according to the given market situation. Companies avoid following a strict schedule. (Zippia)
#5. 39% of companies take a value-based approach to set the prices. 
The majority (39%) of total SaaS businesses charge their customers according to the value they provide. 26% of companies set the prices by making judgments. And 25% of them copy competitors while the remaining 10% take a cost-plus approach. (Devsquad)
#6. More than half of the total SaaS vendors provide an annual pricing structure. 
56% of businesses offer annual pricing packages with enabling discounts for customers. It is advantageous for both: users get the software at fewer costs, and the company reduces the churn rate. (Virayo)
#7. 70% of free trial users are likely to convert to paid services after the sales representative reaches out. 
Though SaaS companies provide their users with free trials, there is a need for sales reps to reach out to customers using free services. There are higher chances of customers purchasing the subscription than customers who are not contacted by the sales team. (Invespcro)
#8. 70% of CIOs prefer cloud-based SaaS because of its agility and scalability.
The motivators behind using SaaS applications are agility and scalability, as it enables flexibility in various business operations. (Deloitte)
Wrapping Up
On the basis of SaaS Statistic mentioned here we can predict the SaaS industry has been on the bull run since recent years, and there is no U-turn soon. Though there are slight changes in pricing and company spending, the overall demand for SaaS applications has remained high. However, a trend tying these statistics together is a fact that businesses are emphasizing remote work. And organizations are now ready to migrate to cloud services entirely or partially. Therefore, it's not unfair to say that 2022 will be the year of the SaaS boom, and unforeseen growth of companies can be seen.