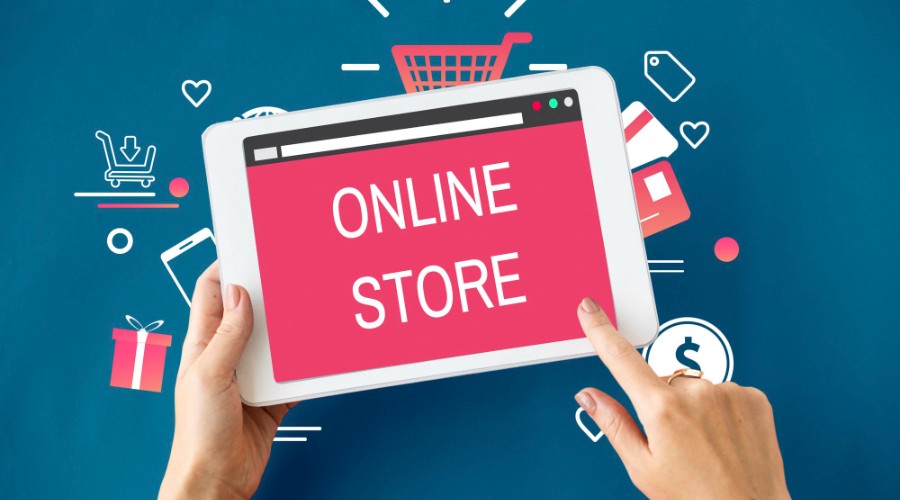 How to Start an Online Shop? Complete Expert Guide to Begin with
More and more customers prefer to order products online. This development has already been evident in recent years and will continue to be an integral part of purchasing behavior in the future. How to start an online shop?
In contrast to a local shop, setting up an online retail business requires other mechanisms, especially concerning the implementation of legal bases, shopping cart systems, or marketing, to pick up the potential target group exactly where it is online on your customer journey.
Our guide to starting an online shop today shows you the steps necessary to put it on a secure footing from the start. We provide answers to basic questions and also show how the appropriate marketing of an online shop can be set up.
Step 1: Select specific products to sell
At the beginning of your business, your product range is compiled. The product selection is the be-all and end-all of your online shop. Clothing, electronic items, health products, services, books - the conceivable selection for your future online shop is large.
So ask yourself where your strengths lie. Why is it worth selling these products in particular? One answer can be, for example: because there is high demand, but so far, there has been little supply.
Once you have decided on a product, find out about your competition. How high is the price for the product with market competitors? How is your offer different?
It is also worth taking a look at the Google search results. How many search results appear under your planned products? As a newcomer, it's easier to compete against a lot of competition if you're significantly different from them. For the success of your online shop, it may be advisable to look for a niche only used by a few other than you.
Step 2: Define your target group
The basic marketing of an online shop begins with determining the target group. For this reason, before starting an online retail business, you should be clear about who you want to target.
Define your target group and their needs. This procedure is not only decisive to be able to carry out marketing that is relevant to the target group but also an important part of the product design.
No matter what you want to sell in your online store, it should solve a specific customer problem or need to be successful. Recognize why a customer wants to buy a certain product from you.
Based on these considerations, create a buyer persona, also known as a buyer persona, so you can later offer the best possible customer service.
Step 3: Look for suitable suppliers and partners
How do I start an online shop? Launching an online store also includes choosing suppliers and how the products get from the supplier to the customer.
If you sell physical products, your online shop stands or falls with the suppliers and business partners because your goods only reach your customers with the appropriate logistics.
Determine the criteria for choosing your suppliers or possible business partners, including costs/prices, quality, in-house, third-party production, country of origin, and various other factors.
Select several potential contractors to talk to and negotiate with. This gives you a better feeling for current market prices and developments relating to prices, product quality, the raw materials and resources required, and delivery times.
Step 4: Check compliance with all legal bases
When planning your online shop, you also need the legal form, including all the necessary mandatory information. When choosing the right legal form, you have various options, including sole proprietorship, registered merchant, GbR, OHG, KG, GmbH, UG, GmbH & Co. KG, Ltd., AG.
So that you avoid falling into a warning trap, you should seek advice from a lawyer on the possible business forms for an online shop. Once you have decided on a form, you can submit your paperwork and report your business accordingly. The law provides the following mandatory information in online trading: name and address of the provider, e-mail address, and telephone number. Legal form (e.g., GmbH, eK), the authorized representatives (e.g., managing director, board of directors). In addition, it is also general.
Develop and publish terms and conditions. As an entrepreneur, they allow you to reduce liability risks and regulate open legal issues in your favor.
After establishing the legal basis for your online shop, you can fully concentrate on developing your platform.
Step 5: Rely on tailor-made software support
Customer relationship management, merchandise management, accounting, customer service, and blog posts need the right framework.
In this context, the right software support to realize the entire online shop creation and processing are fundamental.
Using a website and online builder, you can create an online shop with the right design with the support of numerous professional templates.
This allows you to design an attractive and customer-friendly online shop yourself. All customer information and orders are automatically added to your CRM. In addition, important tools such as a product catalog or smart order and warehouse management are available to you via the solution and various automation.
With the help of a tailor-made software solution, you can map important areas such as the shopping cart system and payment methods and implement the online marketing of an online shop in a targeted manner. You can find out exactly how this works in the following two steps.
Step 6: Define shopping cart and payment methods
How do I start an online shop? For your web shop to fulfill the economic aspect, you need an uncomplicated shopping cart system in which your customers can find their way around immediately and flexible payment methods with the help of which the selected products can also be paid for quickly and conveniently.
Provide a self-explanatory shopping cart and compatibility with all common payment systems. With a CRM online shop like Bitrix24, you offer your customers the freedom to decide whether to pay for their orders with a card, Apple Pay, Google Pay, or cash.
In addition, you can track payment information for each order and see in real-time whether a selected customer has received the payment link and has already paid for the order.
Step 7: Work with holistic marketing for the online shop
The question of how to start an online shop should also include the point of marketing an online shop. Here the range of possible measures is particularly large and ranges from social media channels, Google Ads, and useful content for the customer on the company blog to e-mail marketing campaigns and a live chat for real-time communication.
Whichever marketing mix you choose, focus on your target group and check which marketing activities are particularly promising here.
Which audience do you reach with your posts on social media channels such as Instagram, Tik Tok or Facebook? How is a regular newsletter designed? Which testimonials could you refer to, and who is suitable for cooperation here?
Think about how you can offer your customers real added value in marketing, for example, attractive product videos or tutorials. To make your online store stand out, you also need quality product photos and unique product descriptions. Consider hiring photographers and copywriters to optimally present your products and encourage your shop visitors to purchase.
Step 8: Create your brand
Just as important as the definition of the target group, products, and the right marketing is your brand's closely related strategic structure and alignment.
In marketing, in particular, think about what values ​​your products or services should stand for and what offers, content, and the visual language and tonality of the texts you use to shape this brand image.
When it comes to branding, you must always be authentic and offer your customers the greatest possible transparency. Customers appreciate honesty and genuine interest in a digitally dominated time that is accelerating. Show this and create a brand that represents your company values ​​through and through.
Step 9: Keep an eye on all developments
Before opening an online shop, ask yourself what goals you want to achieve. As anchored in the business plan, you should keep an eye on your company using special key performance indicators (KPIs for short) and understand what it takes to achieve your goals. Then you have to analyze which measures were successful and why certain do not work. Regularly adapt your marketing and possible stock levels to the market. Excessive inventory creates costs, while you need more to deliver quickly.
Ideally, it would be best if you also used the automatism of software such as Bitrix24, which enables you to carry out structured inventory management and informs you about all developments, including possible bottlenecks in the warehouse.
But not only in the warehouse but with all other developments, thanks to practical technical tools such as those offered by Bitrix24, you can view current figures relating to your online shop at any time.
With helpful reports and charts, all numbers can be presented visually and shared with employees. This allows you to identify problems in good time and counteract them accordingly jointly.
In a nutshell: How to start an online retail business!
We have compiled the most important tips for you. With our 9 steps to starting an online shop in 2022, we have given you valuable tips.
Use our guide to starting an online shop to build a successful online business. Start by selecting the products and a suitable target group you want to address with your offer.
In addition, make the selection for the right suppliers and, in addition to the software support for your shop, clarify the possible legal form, shopping cart and payment methods, and marketing measures.
This is how you succeed in creating a holistic brand and in inspiring your customers again and again. Keep an eye on all developments in your online shop and use automation processes and smart software tools.
FAQ
 What are the advantages of an online shop?
An online shop offers numerous advantages because it requires no physical sales space, no sales staff, and there are no rental costs. In addition, with a certain internet affinity and a solid software solution, a functioning online individual business can be set up and running quickly.
How do you create excitement for virtual team-building activities?
When it comes to online team building activities, you create enthusiasm by convincing employees in advance of the benefits and actively involving them in selecting activities that will be carried out. Emphasize the power of virtual team building activities for camaraderie and belonging to build interpersonal workplace dynamics regardless of location.
What are the challenges of building an online retail business?
The challenges of building an online retail business lie in selecting the right target group and shop software and identifying and stocking the products.
How do I start an online shop?
When starting an online shop, the technical infrastructure is particularly important. Fast delivery, uncomplicated payment options, a quick response from the website, and an active after-sales service are the basic elements of a good online shop. Powerful servers and a stable internet connection ensure smooth access and ordering.
Do I need a business plan when building an online retail business?
While opening an online store sounds easier than opening a physical storefront, before you start an online retail business, you should think about your future business:
What goods do you want to offer?

What sales should be achieved?

By when do you want to achieve your goals?
Record all findings in a business plan and use it as a basis to keep an eye on the development of your business.
What advantages do customers benefit from when shopping online?
Shopping in an online shop has many advantages for customers, including a large selection of products and quick comparability, location- and time-independent shopping, and home delivery.