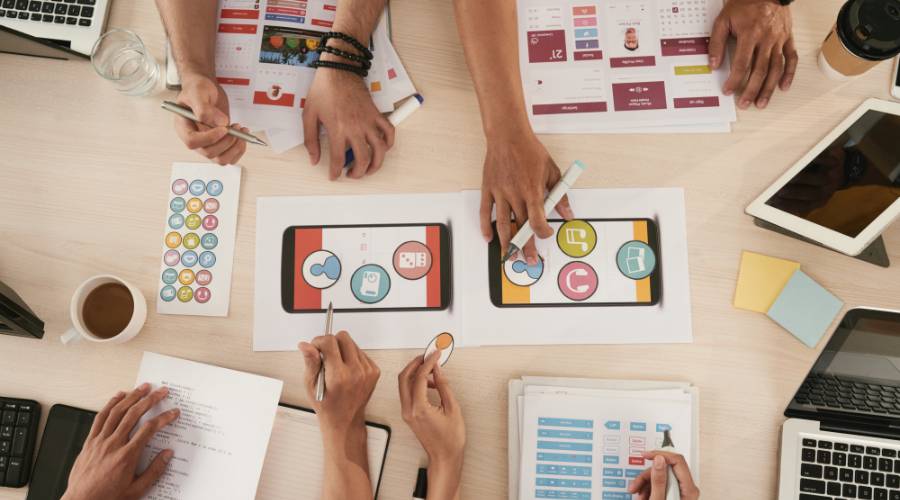 How to Improve User Experience on Your Website for Engagement
In modern marketing, the company's website plays an essential role. However, the ever-faster developing trends in digitization mean that the half-life of your website is falling faster. Consumers expect up-to-date information from a website and, if necessary, the purchase of products with quick and smooth processing.
When visiting the website, the user understands whether his expectations when he called up the page were met. Research shows that nearly a third of all first-time visitors don't return to the site after a bad experience.
Improve your website's user experience so you retain potential customers in the future. But what does that mean? There needs to be more than an aesthetically pleasing design. A few simple rules for improving user experience are easy to define. This includes:
● Quality, up-to-date content that is easy to understand.
● Short and concise information creates better user experiences than lengthy explanations.
● No self-loading pop-ups and advertisements that distract from the content.
● no broken links leading to the infamous 404 error pages.
In addition, the question of added value for the customer must always be examined. The sequence of an ordering process should clarify this briefly. Customer data must be recorded for an order. Let the customer decide whether the data may be saved for future order processes. Subject to his consent, he will in future be informed by newsletter about the latest developments in the company and new products. Improve the user experience on your website by using modern shop systems with integrated CRM and connected order and warehouse management.
The following 8 tips will help to improve the user experience on your website significantly.
1. Enhance user experience through interaction.
Improve your website's user experience by navigating with calls-to-action (CTA). Such buttons, preferably designed with a coordinated color scheme, make navigation easier for users. The correct choice of color scheme must be tailored to the visitors' psychology.
First, each tool is briefly introduced. If required, interested parties can use the call-to-action button "FIND OUT MORE" to call up further information or register using the second button, "START FOR FREE," and immediately start the first test.
Such active verbs - combined with a request - encourage the user to delve deeper into the content and gain experience with the offer. This can and should even be done free of charge in an initial test phase. The experience gained helps to assess the scope of services correctly and makes it easier to start using professional tools with advanced features at a reasonable price.
2. Improve website user experience by optimizing the website loading time.
To achieve a high conversion rate, i.e., the ratio of visitors to the website and the goals to be achieved with the visit, the loading time must be as short as possible. Improve your website's user experience with three seconds or fewer loading times.
Studies have shown that more than 40% of visitors leave a website if it takes longer than three seconds to load a page. The bounce rates are particularly high for users of smartphones or other mobile devices. This is common when one considers that mobile users often take place on the go or during breaks and, therefore, in a very limited amount of time. Long loading times and high bounce rates mean that users leave the website before getting to the heart of the matter.
These factors have a significant impact on page speed:
● Provider and server location for hosting
● Image size
● Self-loading multimedia data
● CMS (Content Management System)
Google offers a service for analyzing and optimizing page loading speed using PageSpeed ​​Tools. There are also numerous other free tools on the Internet for checking the speed of page loading. The same applies to tips for optimizing page speed.
3. Correct selection of photos and multimedia content
Visual content is an essential part of a modern website. Correctly using images or video clips to illustrate information can be very effective in improving the user experience of your website. However, there are a few important things to keep in mind.
Stock photos should only be used in exceptional cases, especially not on a company's home page or product presentation. Otherwise, your website may look familiar to the user because they have already seen the image. Although stock photos can often score points for their high quality, they never convey a bond with the product presented, a company, or a brand. This is reserved for photos created in an authentic environment and related to the company.
Visual content supports customer buying behavior more than ratings and reviews. This applies not only to photos but also to videos that support the statement. However, these must be placed correctly and leave enough space for important information in text form. Videos should be concise and limited to a small amount of content. There are exceptions here when you think of training videos or product assembly instructions.
4. Improve the user experience of your website with a corporate design.
To improve the user experience, the visual consistency of your website must also be used in terms of layout and design. A corporate design is required for professional implementation. In the best case, a company has a corporate identity with the corporate design for the illustrated implementation on the website. In addition to the company logo, this also includes the typography for texts and the coloring of the website. Font selection, heading size, button styles, and design elements are selected appropriately.
There are a few basic web design rules to keep in mind. Text formatting should be done in a user-friendly sans-serif font for better readability. The frequent use of mobile end devices with small monitors requires a sufficient font size to avoid the screen being zoomed. Enumerations, spaces, and good color contrast also improve legibility.
You will improve the user experience if all the above recommendations are followed for the complete site structure. Visitors immediately recognize that they are still on the same website even when using hyperlinks. Breaks in style, changes in color, or the call-to-action buttons lead to confusion, reduce the quality of the products or information offered, and ultimately result in users not visiting the site again.
Also read : Growth Hacking Tools to Boost Your Website
5. One conventional design beats any other.
With the new relaunch of your website, you want to stand out from the digital noise of the Internet. New and innovative designs and methods of navigation should captivate visitors. Do you improve the user experience of your website with it? Not. And why? Because users have become accustomed to certain standards and conventions over the past few years and appreciate them.
These are some of those standards:
● The company logo is part of the header.
● The main navigation is located in the header area or on the side
● The main navigation menu contains the contact details.
● The website has a central search function and registration if services can be accessed via the website.
● Call-to-action buttons with a uniform design are on the start page and subpages for extensive content.
● Every website has a sitemap, an imprint, a privacy policy, and, if necessary, other legal information that can be accessed via a navigation bar. This is preferably placed in the footer.
An additional aspect should be pointed out, which is only relevant for online shops or websites with an ordering system. Improve your website's user experience by eliminating mandatory registration. More and more shops are starting to accept an order as a guest. Although registration has many advantages for the website operator and ensures better opportunities for future customer care, on the other hand, many first-time customers need to be put off by such registration.
6. Clear navigation distinguishes a good website.
Navigation is the table of contents of a website. The structure is mapped via the navigation. This should be simple and make finding the most important content easier.
The navigation points must be formulated and easy to understand for visitors to get to the product or information pages they want immediately. This is particularly helpful for first-time visitors to the website who need to get their bearings first and are still getting familiar with the structure.
The number of main navigation points should be easily manageable to avoid information overload. Although there is no fixed size for the maximum number of navigation items, a limitation to a maximum of seven in the main navigation bar has proven useful in practice. Mandatory information, such as imprint, data protection declaration, or legal notices, can be outsourced to second navigation - for example, in the website's footer.
In addition to content-related aspects, particular importance should be attached to the navigation design, taking into account the various platforms and screen sizes. Improve the user experience of your website with navigation that works with all major browsers and is also suitable for mobile devices. The so-called hamburger menu, symbolized by three small horizontal lines on the smartphone display and also available when scrolling the screen, is helpful in this context.
7. Improve UX through mobile friendliness.
Not only because of the mobile indexing of the large search engine service Google, but it is also imperative to make your website mobile-friendly. With a display optimized for mobile devices, you can significantly improve the user experience of your website. Some tools simulate different screen resolutions and monitor sizes to test the user-friendliness of your website on mobile devices.
The following things should be considered when creating a responsive website:
● Avoid hoover animations that rely on mouse operation.
● Adjust the size and format of photos and videos to the screen size of mobile devices, prefer portrait formats.
● Do not select a font size smaller than 16 pixels.
● Create call-to-action buttons large enough and consider the inaccuracies of touchscreen operation.
● Keep the menu small by using the hamburger menu.
● Minimize the content display and supplement it with fold-out sections.
● Strictly restrict form fields, reduce entries to a minimum, and use auto-complete functions, such as customer data from a CRM.
● Equip shop applications with third-party payment systems such as Paypal to simplify payment processes
Building mobile websites can be challenging for small businesses on a budget. Improve the user experience of your website with modern CMS or website builders with templates and ready-made layouts that support display on mobile devices.
8. Users expect privacy of personal information.
The security of personal data plays a particularly important role for the majority of Internet users. This does not only apply to the use of online shops. Every registration, login, or filling out form involves the transmission of personal data.
It is, therefore, advisable to only collect the urgently needed data. The encrypted transmission of data is now a matter of course. Pract practically all internet service providers offer the SSL certificate required for this. Improve your website's user experience by building trust in security. Use security or trust seals and positive ratings for your company website to make them visible to the consumer on the start page and any shopping pages.
Another security aspect is the constant updating of the software used for the homepage. This applies to the scripting languages ​​and the most commonly used content management system (CMS). Particular attention should be paid to the basic software used and all the plugins used. Site builders and website builders are particularly popular with small businesses and freelancers. The current version must also always be used for security reasons.
FAQ
What Makes a Good Website User Experience?
Regardless of each user's individual taste, a good website must meet objective criteria. This includes an attractive design geared towards the target group, easy navigation, clear allocation and topicality of the content, and opportunities for interaction. The website must be integrated into the corporate identity of the company.
How do I review a website's user experience?
Verifying user experience is a complex task. It can be carried out via test persons or specialized agencies. Alternatives offer feedback forms built into the website or software tools that evaluate a website according to certain criteria. This checks, for example, loading times, link errors that occur, image file sizes, and security standards.
What is the difference between UX and UI?
User Experience (UX) is the experience of a user or customer when they come into contact with a company. The user Interface (UI) is the user's point of contact with the company. Often, this will be the company website, another digital service, or a shop.
What is user experience?
User experience is a complex topic that encompasses all of a consumer's interactions with a product or service. User experience (UX) is particularly important in connecting with digital products, especially when creating a website. Aspects of functionality, user guidance, and design play an important role in the assessment.