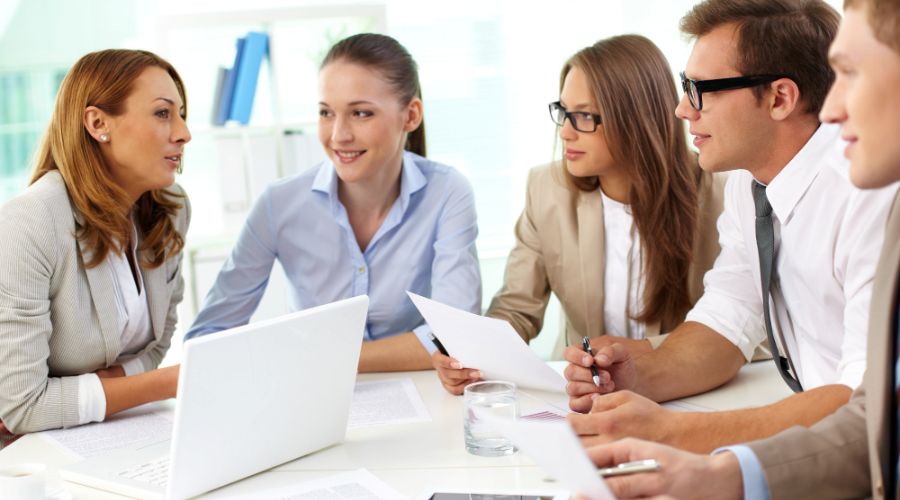 10 Best Workforce Management Strategies for Efficient Productivity
In 2023 there are some important trends that no company should ignore. This includes the increased use of hybrid working models with flexible working hours, the organization of collaboration between and with remote employees, the use of artificial intelligence in service and support, and the integration of solutions for personnel administration, time recording, and planning. How can these tasks be solved holistically?
"Focus workforce management" is a modern approach to this. At the center of this concept is the important resource employee. Especially in personnel-intensive processes, it is important to coordinate the deployment of employees in the best possible way to be able to deploy the best qualified in the right place at all times.
Good workforce management software is required to manage complex processes such as budgeting, appointment and time management, performance monitoring, and the evaluation of the recorded data.
The following 10 tips give you the key to being efficient when introducing a system that meets all resource management requirements.
1. Workforce management is based on the right personnel decisions.
Human resources (HR) are an important basis for a company's success. The focus in workforce management must therefore be on the assignment of employees to the appropriate position that suits their professional qualifications, but at the same time also includes the ability to work in a team. Another focus for successful workforce management is the development of a distinct corporate culture. It contains clear objectives, supports team building, and motivates employees to work independently.
After selecting the right personnel, the right employee must be deployed at the right time and place. This is the only way to achieve the expected productivity or offer a service sector service that leads to improved customer satisfaction. Intelligently developed duty rosters ensure that motivated employees can carry out their work with a high level of efficiency. In contrast, poor timing when deploying employees results in reduced performance and ultimately costs the company money. Flexible working time models, which also take the needs of the employees into account, offer a good basis for using human resources.
2. Appropriate software makes HR management more successful.
Successful workforce management without the right software tools is incomprehensible. HR processes that coordinate personnel deployment and employee administration are far too complex to be mastered without technical support.
A workforce management software should contain the following essential features:
Opportunities to communicate in different ways with members of the team,

A task manager provides a way to interact with team members' schedules and diaries,

Monitor budgets and targets and issue alerts when plan targets are in jeopardy

Provision of data based on which rosters can be created, and personnel decisions can be made.
With the right tools, employee management becomes a success. All HR documents and employee contacts are managed via a central storage location. Working times are recorded and evaluated, making daily work comprehensible for every team member. In the social intranet, work performance can be rewarded with likes and badges, which results in an immediate increase in motivation. The right team management software combines data management with internal communication on a uniform platform.
3. Competent human resource management is based on communication.
For workforce management to function effectively and successfully in your company, communication involving all teams and their employees is required. Because communication helps to improve teamwork, optimizes work processes, and thus helps to meet project goals on time. In this context, the use of suitable communication tools, particularly useful for managing remote teams and all their peculiarities, is given the highest priority.
Management's task is to find out which methods work most effectively and best. The right communication channels are an integral part of workforce management. Through team communication tools, the flow of information within the company is optimized. They can be used anywhere and anytime and ensure that all employees have the same level of knowledge, regardless of whether they work in the office or at home. The continuous interaction ensures that tasks can be completed on time. An activity stream ensures that information can be sent to the project teams, read by the employees, and then confirmed. This, in turn, offers the opportunity to intervene in good time in the event of disruptions in the project process through targeted control of human resources.
4. Scheduling and time tracking for successful employee management
To plan the personnel requirements and the effective use of employees, an exact forecast is required to measure the time required for project processing. Both factors are, therefore, important criteria for workforce management. Scheduling appointments as precisely as possible is an important basis for employing employees. It may be necessary to analyze projects that have already been successfully implemented with similar objectives. The appropriate project management software with integrated reporting and central document management offers the best support.
The scheduling requirements for workforce management include the following:
The task-related deployment of personnel.

The forecast of a possible increase in personnel.

Assignment of tasks to other projects in the event of overstaffing.
To be able to check the efficient deployment of personnel during project work and thus the forecasts, the actual working time required for the assigned work tasks must be recorded correctly. Time-tracking tools that link hours worked to the diary or task management to-do lists are the best way to meet this need.
5. Hybrid working models can support workforce management.
Flexible working hours and hybrid working models provide a good basis for successful workforce management. These instruments make it easier to control the deployment of personnel. The results are cost savings, productivity gains, and increased employee satisfaction, ultimately leading to higher retention of highly skilled professionals.
Flexible working hours enable better staff use, targeted to the order situation or customer needs in the event of high service or support requirements. With a hybrid working model, part of the working time is spent in the office and another remotely from the home office. On the one hand, you are present for customer consultations or team meetings. On the other hand, remote work eliminates the need to travel to work. The time saved for this route can be used as a flexible variation time compared to fixed specifications of office working hours.
Flexible working time models and hybrid working support the company through the possibility of efficient use of employees. Such regulations also improve the compatibility of work and private life and offer good opportunities for further training.
6. The employees must have a central position in the corporate culture.
When employing employees for upcoming tasks, the sole selection based on technical criteria is only sometimes the right method. Technical competence is of great importance and deserves attention, but personal or health reasons can limit an employee's availability or ability to perform. Good management is characterized by gaining knowledge of each employee to understand and evaluate their behavior.
Individual appraisal interviews are an important instrument for understanding people's wishes or possible sensitivities. These should take place in a trusting atmosphere and at eye level. Work-life balance or making working hours more flexible should not be a taboo subject. Another option is to conduct employee satisfaction surveys. It is also important to react openly and understandingly to criticism.
Workforce management can only be implemented efficiently if the company management understands the personal interests of its employees and is aware of employee satisfaction.
7. Employee management requires productivity measurement.
Successful project management requires using the most technically qualified employees in the tasks appropriate to their abilities, as has already been explained. But that alone is not enough. Technical suitability says nothing about the productivity of an employee. It forms the basis for a team member to be able to do their work in line with quality; metrics must evaluate the performance. There is no one-size-fits-all metric that can be used to measure the productivity of every employee. Companies have different business goals. In the manufacturing industry, other criteria for productivity will apply more than in an advertising agency. However, the following key figures will – at least in part – be measurable in almost every company:
the employee-related workload,

the average processing time for a comparable task,

the quality of the work in terms of error rate or customer complaints,

the efficiency of the work done, i.e., the ratio of the work result to the resources used,

Customer satisfaction, insofar as this can be directly related to the work performed by the employee.
8.  Employees must be allowed to develop further.
For employees to use their skills properly, they need to develop their skills further. Training and qualification programs are, therefore, an integral part of successful workforce management because employees who are qualified according to the company's portfolio offer a much wider range of work than specialists for individual tasks.
Every company's workforce management should therefore include developing a training program. This initially includes training new employees and integrating them into a project team according to the trained skills. For further and advanced training, documents on the use and support of the project management software, the collaboration tools, and other required industry software must be prepared. News from the industry and innovative developments in the company should complement the offers. In this context, setting up your knowledge database within the company is helpful. The latest results from the project work can be incorporated here.
As an entrepreneur, you should take advantage of offering your employees career advancement opportunities. There currently needs to be more skilled workers in Germany. Well-trained employees will only remain loyal to the company in the long term if their career planning ideas are considered.
9. Avoid mistakes in workforce management.
The tips described above deal with the important influences on the successful design of an administrative process. However, it is also worth avoiding some mistakes.
Workforce and work planning does not mean managing every work item or every single hour of all team members in detail. This restricts creativity and personal responsibility to such an extent that productivity suffers. Constant monitoring of each employee could be more helpful. As a result, appreciation is lost, and motivation decreases. Instead, confidence in the ability of each individual should be strengthened.
Teams do not require permanent control but rather the presence of a contact person in management. Internal communication must not only work within the project group, but it must also include the management level. If the team manager cannot be reached directly on-site during certain working hours, technical options such as video chat or a video conference are a good alternative.
Within teamwork, individual employees should never be given preference. The same applies to resentments towards individual team members. Workforce management can only be implemented successfully if all team members are treated equally.
10. Workforce management must be consistent with data protection.
Workforce management is always associated with the analysis and evaluation of employee data. Only if the team leader can accurately assess the skills of his employees will he be able to use them properly, achieve high productivity and meet project deadlines.
In Germany, however, metrics for recording employee productivity and a detailed recording of working hours and downtime are subject to the co-determination rights of the works council. At least, that's true for larger companies. The works council should be consulted as early as the planning stage for the software introduction for workforce management when system providers present their products. A works agreement that takes into account both the needs of the company and those of its employees protects against a later legal dispute. This applies above all to data collection, which, according to German data protection law, may only be collected if a declaration of consent has been submitted.
Companies offer their solutions in compliance with data protection regulations and, if desired, with hosting in a German data center.
FAQ
What is workforce management?
The concept of workforce management is based on ​​making the best possible use of a company's employees as valuable resources. Human resources, control, and productivity management must interact to be truly effective as a resource. Software tools support this coordinated approach and help standardize and automate procedures.
How relevant is workforce management in the modern working world?
Workforce management is given high priority in the modern working world. In a digital work environment with rapidly changing priorities, the human resources required for project management should be available. This includes providing the required number of employees with sufficient qualifications anywhere and at any time.
What challenges need to be mastered with workforce management?
Many companies face major challenges, such as uncertain mastering markets with strongly fluctuating demand, advancing digitization, and the aftermath of the pandemic with workforce management. Breaking up rigid work models with flexible working hours and agility offer solutions to these tasks.
What are the primary goals of workforce management?
The primary goal of workforce management is to use as many of the company's employees as efficiently and flexibly as possible. This reacts specifically to fluctuations in demand. The company's profitability is increased by synchronizing existing capacities with the order volume. Other goals are to improve employee satisfaction and optimize administration.