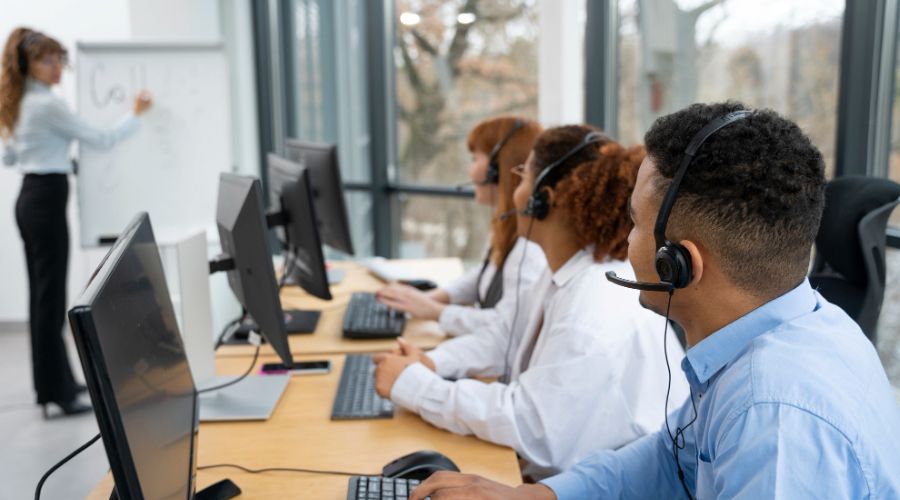 Customer Service Skills To Master for Business Growth in 2023
Customer service influences the purchase decision
After all: If you feel badly advised, you will probably not buy something a second time.
According to the SKOPOS Customer Service Barometer 2021, 87 percent of those surveyed agreed with the following statement:
"The customer service quality of a company influences my purchase decision or decides whether I will become a repeat customer."
Ninety-three percent of those surveyed even stated that service quality influences a brand's public image.
Therefore, it is all the more important for companies to check how their customer service is actually doing.
If your customers contact customer service, the customer comes into direct contact with one of your employees.
This can either be by phone, (video) chat, or direct conversation in the shop.
What is special is that the customer service employees give a face to an otherwise rather anonymous brand that is difficult to grasp.
Depending on behavior and content-related competence, this can positively or negatively impact the company.
What distinguishes good Customer Service Skills?
1. Appreciation towards customers
Good customer service should treat customers with respect and appreciation.
Of course, this includes being polite. Take your customers' concerns seriously and convey to them that you are in good hands regarding customer service.
This also means service employees should listen carefully to problems and not interrupt the customer.
Therefore, pre-formulated standard answers are an absolute no-go in customers service, as the formulation often comes across as very impersonal and inauthentic to customers.
This also applies to dealing with problems or complaints. Suppose the online shop or the company has made a mistake. In that case, it is important that the employees communicate the circumstances transparently and do not speak of an "unclear situation," for example.
How to better resolve the situation? Along with the apology, offer a small amount of compensation.
A free service, for example, is often affordable for companies but makes customers feel they are being taken seriously. Usually, such supposed little things and gestures even strengthen the customer relationship.
2. Competence
Closely related to the first point of appreciation is the competence of the customer service employees.
They should be well-versed in the subject and, if possible, give correct answers.
Nothing is more frustrating for customers than receiving incorrect instructions on how to deal with an issue.
Therefore, customers service employees should regularly take part in training and further education.
3. Communication & Transparency
Whether on the phone, via email, or in chat, customer's service agents should have exceptional communication skills.
The reason: Problems, in particular, are often complex matters.
Good communication skills, therefore, include understandably and expressing yourself. And preferably in short and clear sentences.
On the other hand, clear pronunciation on the phone is essential to facilitate communication with the other party.
But written communication should also be error-free – for example, in support chats.
The same applies to automated reply emails and website texts, which should be professionally written.
4. Response speed to customer inquiries
Good customer's service depends on more than just the employees. The framework conditions also determine how satisfied the customers are with the service.
An important point is a time it takes for those seeking advice to find a solution to a problem. And here, many small factors play a role.
Make sure that customers can reach your customers service quickly and easily without waiting too long - whether on the phone, in chat, or by email.
And, of course, the operating speed of the employees also plays a role, for example, when entering data into a form.
Referring to different colleagues can also take a toll on the patience of those seeking advice.
Not only does important time pass, but customers have to describe the facts repeatedly.
The same applies to references to other media: Anyone who, after entering their data in a support form, is asked to call the telephone hotline quickly gets the impression that they have wasted important time.
Also you can use software to collect customers feedback about your services.
5. Accessibility
Your customers service should be accessible during the day, especially at the call center.
A customer hotline that can be reached in the morning only makes contacting support unnecessarily difficult and can lead to customer frustration.
It is similar to the communication of the various contact channels to the outside: Be where your customers are and offer different ways of making contact, e.g. e.g. social media, WhatsApp.
The problem: Many channels, especially the hotline, are challenging to find on websites. Companies often no longer publish a support email address but instead refer to chatbots that are cheaper for them.
Although these are getting better and better, in some cases, they cannot replace personal contact.
As you can see, the features listed also match your requirements for customer's service.
Nevertheless, several companies still need customers service to meet several of the characteristics mentioned.
On the one hand understandable, because many features can only be achieved through the cost-intensive, regular further training of the employees.
There is also a high risk that dissatisfaction with customers service will negatively impact future purchases.
What is customer service?
Customer service includes dealing with all the wishes that customers have in connection with purchasing a product or service. It forms the interface between sales and marketing of a company and consumers to acquire new customers and retain existing customers.
What skills do you need in customer service?
Customer service include enthusiasm, communication, expertise, and empathy toward customers. In addition, good customer service skills include patience, flexibility, and a certain degree of stress tolerance.
What is all about customer service?
Customers service includes all activities and measures that support and advise customers before, during, and after the purchase process. It also includes all processes and tools, such as a company-owned contact center for customers, that support the team in handling customers service.
What are the responsibilities of customer service?
The tasks in customer service include processing inquiries via email, chat, or telephone, managing complaints, and providing information about products, services, and prices, as well as processing complaints and after-sales services.
Why are customer service and advice necessary?
Customers service and advice are essential building blocks of sales to generate long-term sales and increase customer loyalty. Hand in hand, they promote product sales by focusing on customers' needs and responding to them individually with extensive customer service skills.
What makes good customer service?
Good customer service relies on appreciation, polite manners, and smart communication that reliably answers customer questions. Good customers service is characterized by utilizing all customers service skills, anticipating needs, anticipating problems, and exceeding the initial expectations of prospects and customers.