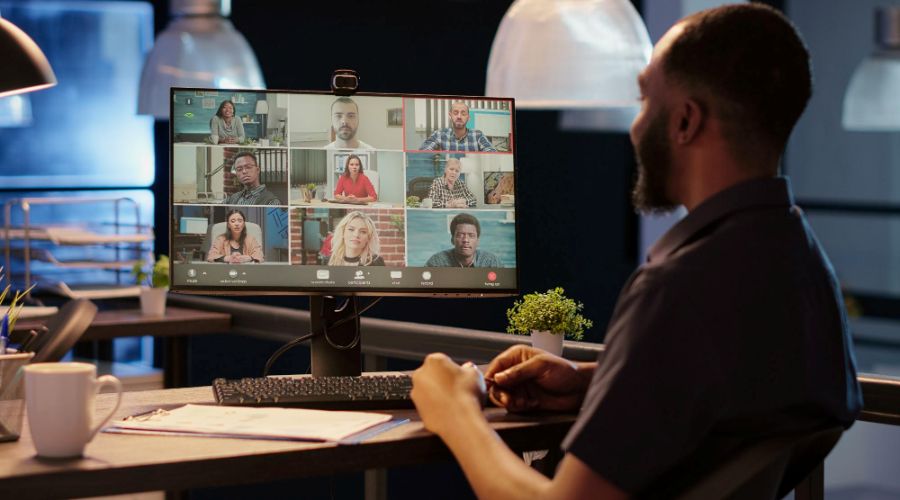 What is Remote Employee Monitoring? Complete Guide for Management in 2023
With increasing remote work by employees, the need for reliable monitoring of employees is growing in companies.
The motivation for monitoring employees can vary. Many employers want to know, for example, by tracking productivity, how remote employees carry out tasks, which working hours are used for this, how high the workload is, or how long breaks last.
In this context, the question arises as to what remote employee monitoring is, how it is implemented, and whether the monitoring of employees in the workplace is legally legitimate.
We have compiled your most important answers about monitoring tools for working from home. Here we show you how to walk the fine line between strictly using employer monitoring software and supporting the monitoring of employees working from home.
1. Use tailor-made project management software.
Project management software supports you in managing all tasks related to your projects and ensures the monitoring of employees around their work performance.
At the start of the project, project managers can assign employees to teams, distribute tasks accordingly and manage deadlines. In line with this, all team members receive appropriate access authorization, which they can use to log in at any time and from any location.
A project management solution offers numerous useful tools, such as tracking project progress in real-time.
You can always track and check the period during which teammates are busy with certain activities. You can encourage online collaboration, accurately track time spent on tasks, and adjust workloads accordingly.
In addition, you can request work reports, create your reports and set KPIs to evaluate the performance of your team and individual colleagues.
Thanks to productivity tracking features in the software, you can analyze the behavior patterns of your team members and come up with solutions to improve their performance.
2. Record working hours
The recording of employees' working hours serves employers to control the workforce and allows employees to document the work they have done. Work-from-home monitoring tools also provide time tracking.
An online time clock enables your remote employees to start, pause, or end the working day. This procedure is particularly practical for monitoring remote employees who work from home and can hardly be physically monitored.
Through time tracking, you can also manage various absences, which are entered into the absence list and give you an overview of who is working remotely or is not available due to rosters, holidays, or illness.
By monitoring working hours, you know exactly how productive your employees are and can prevent any bottlenecks.
If you employ colleagues whose work is billed hourly, the time record in tasks can also be useful. Immediately after creating a task, notifications are sent, and the work progress and the result are evaluated. If there are delays, team members are immediately informed that they are overdue.
3. Ensure reliable workflow management.
Using predefined workflow management software, employee monitoring is supported by allowing them to submit leave requests, business trips, accounting, and other issues directly in the activity stream.
If changes are made to the workflows, these also appear in the activity stream. You decide what permits are needed and how everything is implemented in practice.
To design such flexible workflows, you can use a visual business process editor, which you can use to assemble your workflows using drag & drop easily.
This allows task management to be automated, automation rules to be set up, and trigger to be set, as well as task dependencies, time tracking in tasks, and practical templates to be used.
You can use automation rules in tasks and in the CRM to design adaptable business processes and check the work performance of individual employees or entire remote teams at any time.
4. Work with to-do lists.
To-do lists are convincing with their simplicity and serve the purpose of clearly presenting the upcoming work and subdividing it into tasks and subtasks.
You can use to-do lists to track exactly where the company is currently in the project implementation, which to-dos lie with which employees, and how far along they are with the processing.
To-do lists thus allow seamless monitoring by project managers and supervisors and, at the same time, offer employees an ideal working basis for coping with daily tasks. For example, you have the option of adding relevant additional information or documents, such as PDF documents.
By the way, you also promote the self-management of remote colleagues, who can record to-dos clearly and according to priorities and assign tasks with software support.
As soon as a to-do is completed, this is marked with a virtual tick and shows you that the employee has already completed the area.
All of this happens in real-time because to-do lists are, by nature, not static. New developments and tasks can be added individually, and all changes can be seamlessly traced.
5. Keep an eye on email activity.
Remote employee monitoring may also include tracking email activity. Especially considering that some colleagues spend up to 50 percent of their working day working in their email inboxes.
It is not enough just to know that this is the case, but also how many emails are received each day, to whom emails are sent, how quickly leads are responded to, and much more.
Mail gives you the option of creating email accounts for each employee, setting up counters for incoming emails, and identifying important recipients and senders.
Check what times of day and what days of the week most emails are sent and how long it takes for incoming emails to be answered.
Email activity is a good indicator of which members of your team are particularly busy interacting with business partners and customers and where the workload may need to be rebalanced.
6. Check the work progress regularly.
Good employee monitoring software always involves the people concerned directly. Create clear rules for your remote teams regarding their self-assessment.
For example, it is possible for every employee to send a short report to the project manager or supervisor at the end of the working day or at the end of a working week, explaining which tasks were worked on in the period under review and what time was used for them.
Software for such tasks enables you to collect various work reports from your employees, which can also be customized accordingly. Have the work reports sent to you daily, weekly or monthly. Appropriately, you have the option of accepting, rejecting, commenting on, and rating reports on the work progress.
Filters are available for monitoring the work reports, which you can use to select the reporting period, employees, or a department or to display report statistics.
Work reports from remote employees promote self-discipline and enable individual colleagues to communicate how they feel about the current situation and whether they might need relief or would like to take on more responsibility.
They self-reflect on their work, consciously discussing whether they are under or overworked or whether a balanced workload is being implemented.
In combination with subjective analyzes from the individual work reports, you can also rely on objective reports that you can generate from a software solution. You can find out how to use this aspect to monitor your employees in the following section.
7. Ensure objective reporting
For evaluation, many software offers you checklists, burnout/burndown charts, Gantt charts, Kanban boards, and dashboards, which you can use to compare estimated numbers and indicators with the actual results achieved by your employees.
At this point, you can use integrated HR functions to monitor employees and manage performance. You calculate, evaluate and compare the performance of employees using absence tables, working hours, days off, working day settings, and more.
So-called performance reports offer you full transparency and the option of measuring the effectiveness of your employees' work. It can be determined based on the number of completed and overdue tasks of the employees as well as the assessment of the work by their respective superiors.
For a detailed overview, you also have the option to create reports based on leads, closed deals, or other activities of your employees. You use an integrated report wizard to define the name, description, and report conditions and add the columns you want. How to automatically limit your report results by the selected parameters.
You can also add charts such as linear, bar, or pie charts to your reports for better visualization.
8. Include subjective factors and work ethic.
The monitoring of employees should always be balanced and always include a social component in addition to the employees' self-assessment, the evaluation of work performance by supervisors, and the control of objective diagrams and reports.
Include a certain degree of subjective observation, especially if you are in personal contact with the employees and occasionally have a conversation with them.
Pay attention to how your remote employees act in video conferences or behave in possible physical meetings. Use your social skills to speak openly with employees about possible problems or work ethic and also focus on the statements of the respective employee about the current workload.
It is often important to read between the lines here. Especially when employees seem stressed, do not complete tasks satisfactorily, constantly exceed deadlines or log out early, and do not complete enough working hours.
Stay on the ball and seek personal contact with the respective employee to find out where the shoe pinches. The monitoring extends here to subjective impressions that help you to assess your employees and to offer them the right framework conditions for their work.
If the affected employee responds to your request, you have the opportunity to remedy the critical situation by taking appropriate countermeasures. Small things such as a different distribution of the workload or specific tasks are often enough to make remote employees more satisfied with their work and actively contribute to the company with their work remotely.
Fair and transparent: monitoring of employees who work from home
In addition to suitable software for tasks and projects, the remote monitoring of employees requires a certain amount of sensitivity. Make sure that reviewing the work does not give your colleagues the feeling that they are being monitored.
Involve employees, project managers, and supervisors alike and thus ensure reliable and regular time recording and reporting.
Use remote monitoring transparently, show what advantages it brings for individual employees, and use company resources efficiently to ensure long-term business success.
FAQ
What is Remote employee monitoring?
Remote Employee monitoring encapsulates the application of various methods of monitoring work, which enables the collection of information on the work, activities, and whereabouts of an organization's employees. The monitoring can be done in the office but also remotely.
Is the monitoring of employees allowed in the workplace?
The monitoring of employees in the workplace is generally permitted, but only following the legal requirements, which include the Federal Data Protection Act. Employer monitoring software may only be used in this context if the employee has given prior consent to the monitoring.
Why is remote employee monitoring important?
Monitoring employees is important to determine the workload and to counteract a possible overload by delegating tasks to other colleagues. It also helps identify team members who need to be more responsive or complete deadlines. This significantly reduces inefficiency.
How can employees be monitored?
Employees can be monitored using project management software, recording working hours, optimizing work processes, sharing to-do lists, checking email activities, querying work progress, objective reporting, and various subjective factors.
What role does data protection play in monitoring employees in the workplace?
Data protection is crucial in monitoring workplace employees because it is based on data processing. Consent is required for the collection of personal data. Companies are obliged to present all measures relating to monitoring employees transparently and take paragraph § 26 BDSG into account.