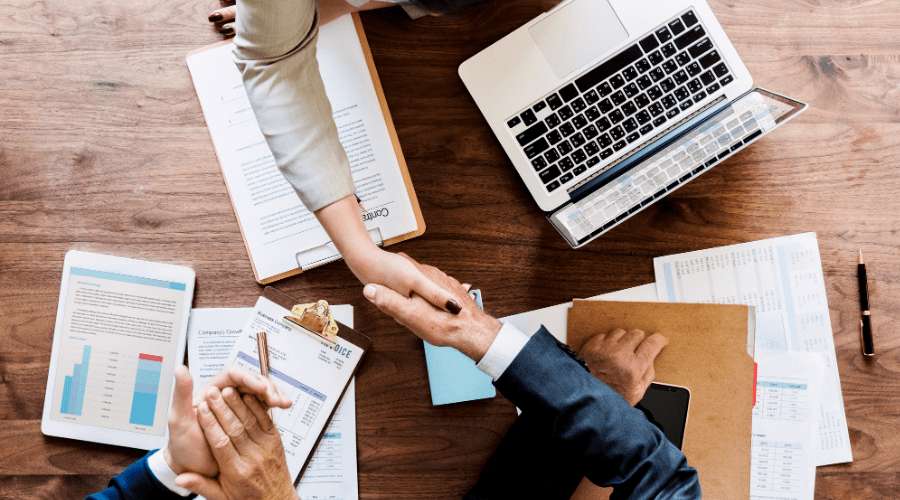 What is HRMS? Human Resource Management System
What do you understand by HRMS?
HRMS (Human Resource Management System) is a type of HR software that enables HR functions to be managed using information technology.
It is the purpose of an HRMS to improve the productivity and efficiency of the organization by automating manual and repetitive tasks. In turn, this frees up the time of the HR team. Thus, the additional bandwidth may be used to address more strategic, business-critical tasks in the human resources department.
It is typically cover all aspects of an HRIS and includes the capabilities of human capital management systems. Payroll and  Tracking of Time & Labor Management (TLM) are the two most common characteristics of a typical HRMS.
Top 5 features that should be included in HRMS
In every organization, Human Resource Management (HRM) is a function that increases employee performance in alignment with strategic objectives. The primary objective of human resource management is to manage people within organizations through the use of systems and policies. An Human Resource Management System automates and streamlines the following sub-functions of HR:
Recruitment Process Management
It is critical to recruiting employees with the right mix of skills and competencies at the right time. The process includes initiatives such as promotions, internal job postings, and employee referrals in order to fill positions.
Onboarding Process
The candidate who has agreed to join an organization will report to work on a particular day. The joining date is referred to as the joining date. There are certain activities that are performed on the first day of an employee's employment. Employee onboarding refers to these activities. With the help of complete HRMS software, the entire process can be simplified.
Confirmation for hiring employees
In most cases, when an employee joins an organization, he goes through a probationary period during which the organization and the employee evaluate each other and decide whether to continue the relationship. The employee would normally undergo a confirmation process at the end of the probationary period.
Leave Policy and monthly pay scale management
The HR Department is responsible for formulating or managing the organization's leave policy. In addition to creating HR policies, the HR Department is also responsible for maintaining all transactions. It is possible to simplify this Herculean task with the help of an Human Resource Management System. Providing leave to employees in an organization is a statutory (legal) requirement.
Calculation of salary changes and increments
The Human Resources Department is responsible for determining or revising the salaries of employees in consultation with the Business Heads. Salary revisions are typically accompanied by a Salary Revision letter. Additionally, this information is forwarded to the Payroll team, who will include it in the next payroll. The Human Resource Management System software also allows employees to view the changes.
What are the advantages of installing HRMS for organizations?
Data analytics is one of the reasons HR functions are moving towards automation today. AI is the new buzzword, and everything is powered by the right information at the right time.
In addition to big organizations, startups and growing companies face additional challenges that can only be addressed by implementing a proper system.
Data Management of Organization
An organization's HR data is some of its most sensitive information earlier approach to storing and managing this data was paper-based, which called for heavy investment in the space required and the time required to pose a significant challenge. The spreadsheet era followed. The method proved to be error-prone and time-consuming. HRMS, which is, first and foremost, paperless, provides the answer to all the above problems since it eliminates the possibility of being misplaced or incomplete.
It is also possible to track real-time information across a variety of HR functions, such as leave, attendance, and payroll, with the help of their software. Employee engagement has become a critical component of organizational performance at a time when employees are increasingly viewed as customers.
Employee Self-Service Portal
Employee Self Service refers to a collection of information that is available to employees in one central location.
The most modern HRMS include an employee self-service portal, which allows employees to access all of their personal information. This comprehensive view of critical data, such as payroll, leave, and attendance, not only increase trust within the organization but also proves to be beneficial to employees. It is now possible for employees to view/download their payslips, view leave updates and real-time attendance data, as well as their tax liabilities for the month or year without having to contact Human Resources. This frees up the HR team's time for other strategic tasks, which in turn improves the efficiency of the business.
Easy Reporting and records
By utilizing an HRMS, you are able to generate a number of predefined statutory as well as MIS reports without the need for any initial set upfront, CLRA Report, Shops and Establishment Act Report, and the like can be accessed in their specified formats without any effort whatsoever. As an additional feature, powerful filters allow you to generate reports based on a variety of parameters on an on-demand basis, usually at the request of senior management. HR dashboards provide quick access to critical information within your HRMS software, all on one screen.
Efficiency and Affordable
Cloud HRMS are highly cost-effective. The cost benefits you stand to enjoy from their use far outweigh the modest investment involved in their acquisition. As an example, payroll management costs drop significantly once compliance is in place and fines and penalties are eliminated. As a result, the department is able to save time and improve its efficiency by avoiding the duplication of information. Instead of involving HR in leave management, it can now be handled between employees and their reporting managers. Attendance management also faces a similar reality.
Better Statutory Compliance
An important aspect of a company's hygiene is statutory compliance with state and federal laws and cost implications if not handled with care, by way of fines and penalties to be paid out to government agencies. As a result of regular updates to the backend of modern cloud HRMS, you are not forced to hunt down the nitty-gritty of legal changes in an Indian legal landscape that is constantly evolving.
How to find the best Human Resource Management System for your organization?
Okay, so you are beginning to feel that an HRMS solution is a necessity for you at this time. Now that you have made your decision, you need to ask the most pertinent question. What is the best HRMS for my organization?
In order to find the right Human Resource Management System, you should consider the following points. As a general rule, if your primary concerns are reducing costs, increasing productivity, and engaging your employees, then you should consider a cloud-based solution.
Establishing best practices in human resources and payroll
The introduction of an HRMS offers the same advantages as it comes pre-built with industry-standard best practices incorporated into the product. HR and payroll policies and procedures are often lacking in SMEs. It is possible to bring discipline to these areas by implementing an HRMS within the organization.
Understanding your requirements and the cost implications
There are various forms of cloud HRMS. While the core features may appear similar, the depth of expertise in each of the areas addressed and the user experience tends to differ greatly. In order to select the HRMS software that is ideal for your needs, you should first have a clear understanding of your requirements.
To ensure a smooth transition, you should be very clear about the specific modules and features you are looking for. By their very nature, cloud software is highly cost-effective when compared to other options such as desktop software currently available on the market.
Providing uncompromised customer service
Imagine that you are not in town or currently in another country when your HRMS system suddenly fails. If you were in this situation and needed technical assistance, what would you do? To address this issue, you will require 24X7 support from your software company.
Therefore, it is very important that you discover the customer support service of the HRMS software before you purchase it. Please confirm with them whether they provide customer support 24 hours a day, 7 days a week.
Easier system integration in the organization
Direct integration with payroll inputs such as attendance/biometrics systems is also crucial. It is also possible to have data flowing from the HRMS into other systems, and most cloud-based HRMS support this through APIs. There is the possibility of integrating with accounting software, attendance management software, and performance management software.
All in all, a cloud-based HRMS represents the new paradigm of automation in the HR industry. In addition to improving efficiency and productivity, such systems lay the foundation for organizational change, as they are cost-effective and extremely easy to implement.
Conclusion:
As a business owner, look for simple solutions that ease down most of your workload. Getting operational HRMS to your organization is one of the wisest decisions for the better performance of employees and ultimately the organization. Accurate management is only possible when you have the best Human Resource Management System.